This post may contain affiliate links.
---
Who ISN'T a sucker for ooey gooey cinnamon rolls? So soft, so sweet, and perfectly delicious every. dang. time. The sweet frosting on top finishes these perfectly, so they'll satisfy every craving.
---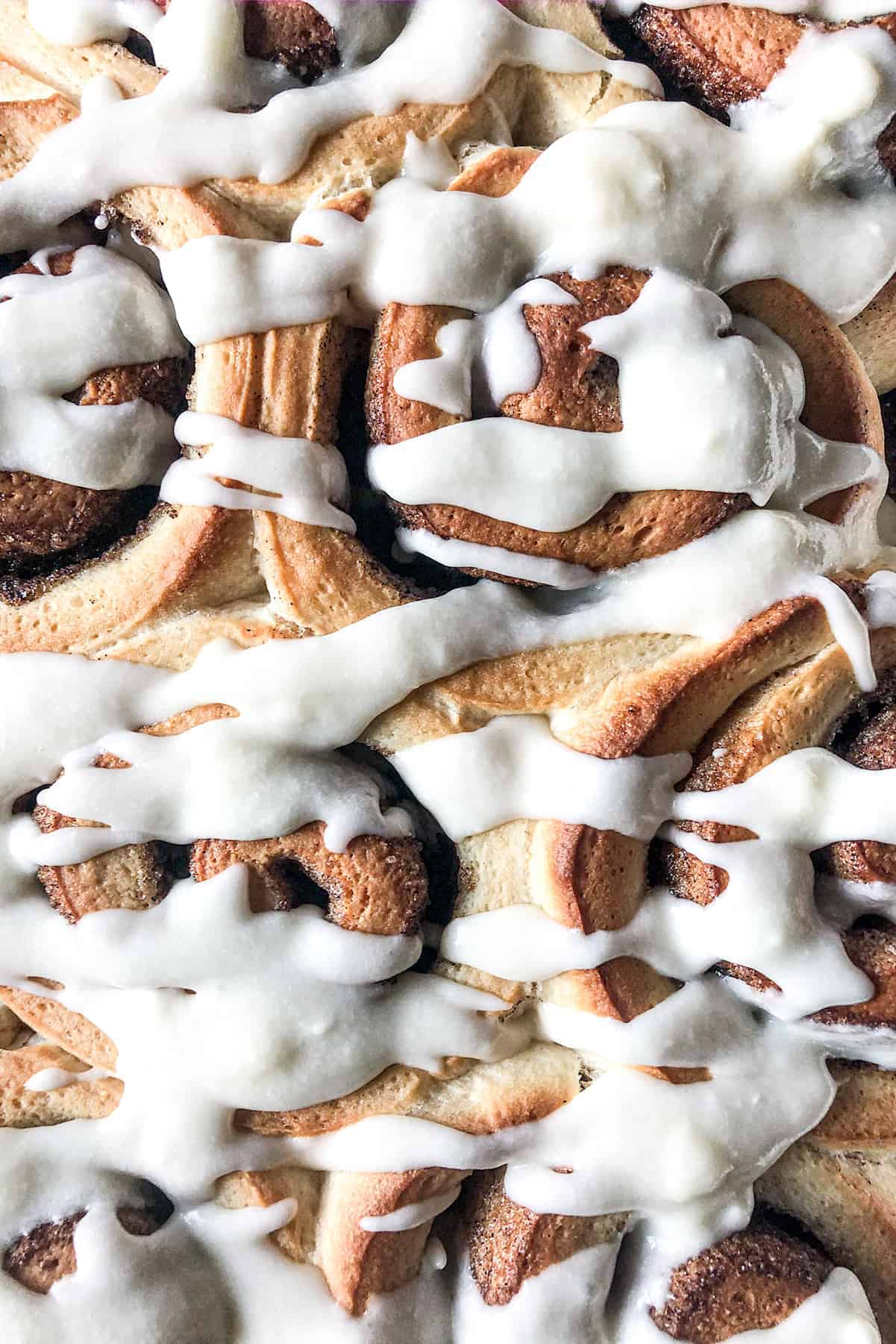 ---
About
Ahh, ooey gooey cinnamon rolls. The perfect breakfast. Actually- who am I kidding?! These are perfect for breakfast, lunch, dinner, midnight snack, and all the times in between.
What's your favorite part of a cinnamon roll? Is it the sweet frosting? The cinnamon swirls? The gooey dough? For me, I love the slight crunch on the top of the cinnamon roll before it gives way to the softest inside. My hubby's favorite part is the ooey gooey cinnamon-y middle.
I'm pretty confident that ANY cinnamon roll is a GOOD cinnamon roll (looking at you, frozen Cinnabons), but sometimes, a girl just needs that homemade goodness. You really can't beat the textures and flavors of a homemade cinnamon roll with the store-bought stuff. So give these a shot, then let me know what you think in the comments!
---
Ingredients
Yeast
The dreaded cinnamon roll ingredient. The one that turns people away from homemade cinnamon rolls and breads, and leaves many people without the satisfaction of ever making homemade yeast bread. Well, not today, friends! You're going to make this yeast dough and you're going to succeed! A few tips for your success:
Milk Temperature: For active dry yeast, the temperature at which yeast die is 120°F. This is why the recipe below tells you to heat the milk to about 110°. Aiming for this temperature will activate the yeast, and still give you some wiggle room in case it's a little warmer or a little cooler.
Testing the Temperature: To test the temperature of the milk, I suggest using a thermometer- you can use a candy thermometer or a meat thermometer- whatever you have will work! If you don't have a candy or meat thermometer, use your wrist to check the temperature. The milk should be very warm on your wrist, but not so hot that it hurts! If this imprecise method of measuring concerns you, don't let it! Yeast is forgiving to an extent. If you're unsure, lean towards less cool rather than more, to ensure the yeast don't die (see the bullet above).
Types of Yeast: If you have instant yeast, and not active dry, you can still use it! Instant yeast may rise more quickly, so be sure to keep an eye on the size and feel of the dough (see Proving the Dough bullet below) to ensure you don't over-prove it.
The Dough
Mixing and proving the dough is one of the hardest parts of making cinnamon rolls! But use the tips below and you'll be bound for success.
Mixing the Dough: One of the most challenging parts of making cinnamon rolls is understanding when to stop mixing! You can use a few methods for testing when the dough is mixed enough (meaning there's enough of a gluten structure to prove effectively).

Windowpane Method: Take about a golf ball-size piece of the dough and pull it apart in front of a window. If the pieces break apart right away, it's not ready yet! You'll know it's ready when you can stretch it apart, the dough stays together, and you can see light from the window coming through the (still-together) dough.
Poking the Dough: You can determine if the dough is ready to prove by poking the dough. If it feels soft and doesn't spring back, keep mixing! You'll know it's ready when you poke it and the dough feels strong and springs right back.
Seeing the Dough (Use this method in conjunction with one of the above methods): The dough will look shaggy and soft if it's not mixed for long enough. You'll know it's ready when the dough is smooth and strong, though please use one of the above tests in conjunction to make sure it's ready! Sometimes I knead 3-5 times on the counter when I think it's close to being done. This helps me see if the dough smooths out by hand-kneading, because sometimes the stand mixer can keep the dough shaggy even when it's ready.

Proving the Dough: Most recipes, including this one, tell you to prove the dough for a certain amount of time, or until the dough has doubled in size! This is a good visual cue, but can sometimes be challenging to tell when it's doubled, depending on the container you're using. So, as a more exact method, you can tell when the dough is done proving is by poking it! If you poke it and it springs back quickly and fully, it's not proved enough. If you poke it and it doesn't spring back at all, it's over-proved (meaning the air bubbles have popped). Properly proved dough will spring back slowly when you press it, and leave just a small indentation where you poked. That's when you know you're ready to move on to the next step!
---
Notes
Storage: Store on the counter for up to 3 days (if they last that long), or in the freezer for up to 3 months.
Other bread recipes you'll love:
---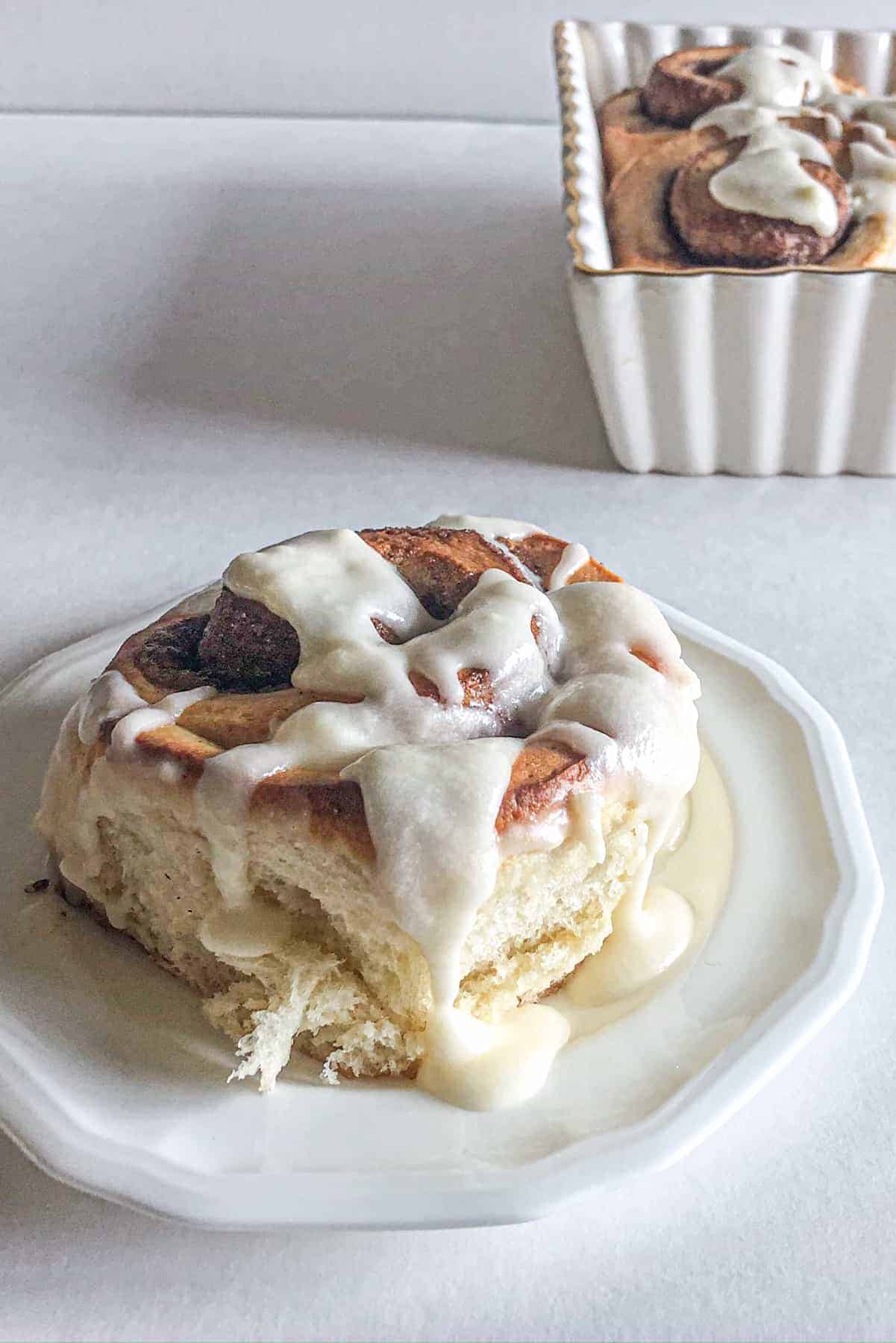 ---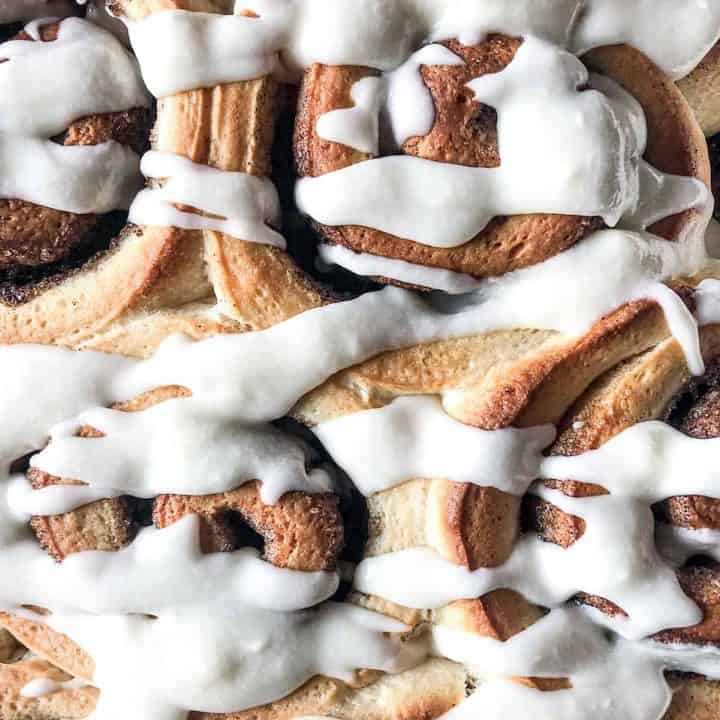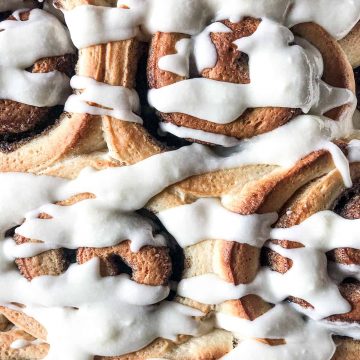 Cinnamon Rolls
Who ISN'T a sucker for ooey gooey cinnamon rolls? So soft, so sweet, and perfectly delicious every. dang. time. The sweet frosting on top finishes these perfectly, so they'll satisfy every craving.
Ingredients
Dough for Rolls
2

packages

active dry yeast

1

cup

whole milk

½

cup

heavy cream

½

cup

unsalted butter, softened

½

cup

sugar

1

egg, room temperature

1

teaspoon

salt

4 ½

cups

all-purpose flour
Cinnamon Filling
½

cup

unsalted butter, softened

1

cup

brown sugar

2

tablespoon

cinnamon

¼

teaspoon

salt
Frosting
¼

cup

unsalted butter, softened

2

teaspoon

vanilla

3

cups

powdered sugar

4

tablespoon

milk, room temperature
Instructions
Make the Dough.
Combine heavy cream and milk in a microwave-safe bowl. Warm in microwave until lukewarm (about 110 degrees).

Pour milk mixture into a large bowl, then add yeast. Add 1 stick of butter, the sugar, egg, and salt and mix until roughly combined.

Add flour, 1 cup at a time, until fully mixed in.
Knead the Dough.
If using a stand mixer, use the paddle attachment until fully combined. Then switch to the dough hook and knead on medium-low speed for about 8-10 minutes. Alternatively, you can knead by hand for about 10-12 minutes.
Proof the Dough.
Put the dough in a large bowl for proving. Place in a warm area (around 70 to 80 degrees), or in an oven on the proving setting, and cover with a damp towel or paper towel. Let rise until doubled in size, about 1 hour and 30 minutes.

After risen, press down on the dough to remove the air that has developed. The dough should be back down to about it's original size. Let rise again until doubled in size again, about 30 minutes.
Roll the Dough.
Preheat the oven to 400, and grease your pan with butter in preparation to make the filling and rolls.

Place the risen dough on a countertop or board. Roll it out to ¼ inch thick, about 22 by 12 inches.
Prepare the Filling.
Spread butter on the dough. Combine brown sugar, cinnamon, and salt in a bowl and sprinkle evenly on top of the butter.
Make the Rolls.
Roll up the dough into a long log, and pinch the seam to seal. Cut each roll 1.5 inches wide, using a serrated knife. Place the cut rolls in a baking dish, about 1 inch apart from each other.

Place in a warm area, cover with a damp towel or paper towel, and allow to rise again for 30 minutes.
Bake.
Bake the rolls for 20-25 minutes or until light golden brown on top. Remove and allow to cool.
Make the Frosting.
Make the frosting by whisking together ½ stick butter, 4 tablespoon milk, the vanilla, and the powdered sugar. Pour over the rolls.
---
Did you make these ooey gooey cinnamon rolls? I want to know! Post it on social media, tag @battersandblessings, and add #battersandblessings so I can see your creation 🙂
---
You Might Need...