This post may contain affiliate links.
Sweet caramel, spicy whiskey, and a hint of salt gives these homemade whiskey salted caramels the perfect balance of all flavors. Using flaky sea salt, any type of whiskey (my preferred is Irish whiskey or bourbon), and butter, these caramels are decadent, deeply flavored, and crowd-pleasers! They will definitely be your new go-to's for neighborly gifts, party favors, or just a sweet treat when you need a pick-me-up.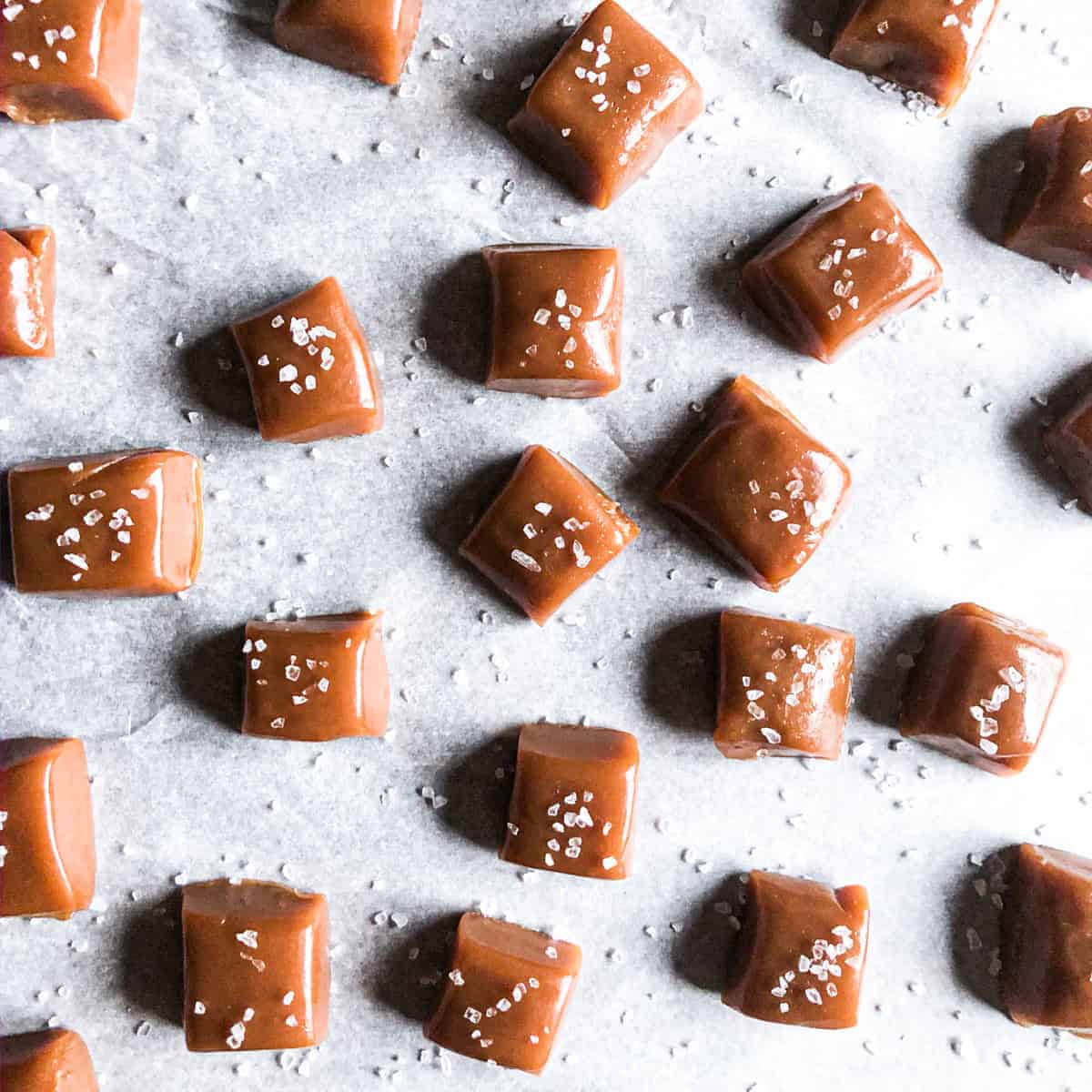 Have you ever made caramels before? There's nothing like homemade caramel. The store bought version can't do it justice.
However, I have a disclaimer- caramels can be a little finicky, so although I've laid out the steps exactly, you should probably anticipate needing to try them once or twice before you can perfect yours! But isn't that the fun of baking? All of your trial runs will still be delicious.
I turned one of mine into a caramel sauce for ice cream, and the other, though my butter separated from the mixture, still tasted DANG delicious. So give them a go!
If you like this recipe, check out my salted caramel drizzle recipe, or my brandy old fashioned cake.
Would you like to see this whiskey caramels recipe on my instagram or tiktok? Let me know in the comments!
Jump to:
Ingredients
Sugar
Corn Syrup
Unsalted Butter
Whiskey (I prefer Irish whiskey or bourbon. This recipe calls for ⅓ cup of whiskey, which I think has the perfect balance. However, if you want an stronger whiskey flavor, you can add up to an additional ¼ cup.)
Half and Half (this is the key to making the caramels rich and delicious!)
Vanilla
Kosher Salt
Coarse Flaky Sea Salt (for sprinkling)
See recipe card for quantities.
Instructions
Line a bread loaf pan (or similar sized pan, if you don't have a loaf pan) with parchment paper.
Place your candy thermometer in a 4 qt or larger pot.
Melt butter on the stove or in the microwave. Stir in whiskey, kosher salt and vanilla, then half & half. Pour in an easily-pourable bowl or measuring cup and set next to your stove.
Put sugar, corn syrup, and ⅓ cup water in a pot. Heat over medium without stirring for around 10 minutes, or until the mixture is starting to turn an amber color. This will begin around 300 degrees (but wait until you visually see a light amber color in the whole mixture).
Once the sugar mixture is an amber color, immediately whisk in the half & half mixture, pouring slowly and whisking vigorously. The mixture will bubble up significantly. Continue whisking until all of the half & half mixture is incorporated.

When you pour the half and half in, the mixture will bubble up violently. The first time I tried these out, I wasn't prepared for it, so the pan overflowed and I had burnt caramel on my pan and my stovetop. Not ideal. So be prepared and have a slightly oversized pan to make these in, so you don't make the same mistake I did!

The temperature of the mixture will be much lower after the addition of the half & half mixture. Heat the mixture back up to 240 degrees, then immediately remove from the heat and pour into the prepared pan. Allow to cool for at least 3 hours.
Cut into ¾ inch squares using an oiled knife or pastry scraper. Sprinkle with sea salt, and wrap in individual wax papers to store.
Substitutions
Half and Half: You can substitute heavy whipping cream for the half and half!
Whiskey: You can use a different alcohol instead, perhaps try brandy or scotch! I'd recommend sticking with dark liquor so you get that nice depth of flavor from it.
Brown Sugar: Try using brown sugar instead of granulated for a slightly different, molasses flavor!
Variations
If you want to spice these homemade salted caramels up a bit, let's talk about how to do it:
Use different types of whiskey for different flavors: Irish whiskey, bourbon, or Jack Daniels are some classics!
You can try pouring melted chocolate on top of these for some chocolate-caramel action!
Description
You've found the perfect whiskey salted caramel recipe if you're looking for one that is:
Sweet and salty
Chewy
Deeply flavored
Great for gifting
Especially works with fall flavors
This is a super flavorful caramel that has a lot of fun, complex flavors that play off of each other. The texture is wonderfully chewy, but not too chewy if you know what I mean!
Troubleshooting
The sugar crystallized: This can happen if there's sugar crystals that do NOT heat up with the rest of the mixture. If these crystals then come into contact with the mixture, it causes the entire batch to break. The usual suspect is sugar on the sides of the pan that doesn't get coated with water before heating. To avoid this, you have 2 good options:Use a wet pastry brush to brush down the side of the pan before starting.

For the first few minutes of the caramel cooking, cover the pan. The steam will cause enough moisture to moisten and warm up the sugar crystals on the side of the pan.

The sugar burnt: Start on a low/medium heat. High heat can make the mixture heat too quickly, easily leading to burnt sugar!

Step 5 in the recipe below says, "Once the sugar mixture is an amber color, immediately whisk in the half & half mixture, pouring slowly and whisking vigorously. The mixture will bubble up significantly. Continue whisking until all of the half & half mixture is incorporated." Note that once the sugar turns to amber, it VERY QUICKLY turns to burnt. Be sure to have your cream mixture prepared and ready to pour in immediately when the sugar is amber.

Butter separates from the caramel: The most likely culprit is the butter mixture was too cold going into the sugar mixture, but this can sometimes be a mystery situation. It happened to me once for no reason that I ever figured out, but check out this article to learn about some common reasons.
The caramels turned out hard, not chewy: This is indicative of overcooking the caramel- be sure to take it off the heat around 240 after adding the half and half, and immediately pour into the loaf pan!
The caramels didn't set: You may have undercooked the mixture (ie. it didn't get to 240 degrees). Never fear- use this as a caramel sauce on your ice cream, in your coffee, on cheesecake, or on some chocolate cake!
Top Tip
Keep a very close on eye the temperature of your mixture at all times! They burn so easily. A candy thermometer is instrumentally helpful in making these caramels. If you have time before you make these, invest in one! This is the one I have- only $20 and will make your life so much easier!
Equipment
Storage
You can store salted caramels in an airtight container for up to 3 weeks at room temperature, or freeze for up to 6 months.
Note that if you don't wrap these in wax paper, they'll end up sticking together if they're stored touching! However, if I'm not planning on giving them away, I don't wrap them because I personally don't mind.
FAQs
Why did my caramels turn out rock hard?
The caramels were most likely overcooked. Be sure to take the caramel mixture off of the heat once it reaches 240, and immediately pour it into your pan.
How far in advance can I make caramels?
You can make them up to 3 weeks in advance to store at room temperature, or 6 months in advance stored in the freezer.
Can I freeze caramels?
Yes, these caramels will last for up to 6 months in the freezer.
Notes
Mom's Apple Squares
This awesome recipe is sure to remind you of your mom's apple squares recipe that she used to make for you every fall. The squares have an awesome balance of apples and cinnamon, have just the right amount of icing, and are like apple pie without all of the hassle of a pie crust!
Nutrition
Calories:
85
kcal
Carbohydrates:
13
g
Protein:
1
g
Fat:
3
g
Saturated Fat:
2
g
Polyunsaturated Fat:
1
g
Monounsaturated Fat:
1
g
Trans Fat:
1
g
Cholesterol:
9
mg
Sodium:
142
mg
Potassium:
7
mg
Sugar:
13
g
Vitamin A:
97
IU
Vitamin C:
1
mg
Calcium:
7
mg
Iron:
1
mg
---
Did you make these salted whiskey caramels? I want to know! Post it on social media, tag @battersandblessings, and add #battersandblessings so I can see your creation 🙂