This post may contain affiliate links.
---
These pumpkin cream puffs are light as air and filled with slightly sweet, slightly spicy pumpkin spice whipped cream to make this the perfect warm fall evening dessert.
---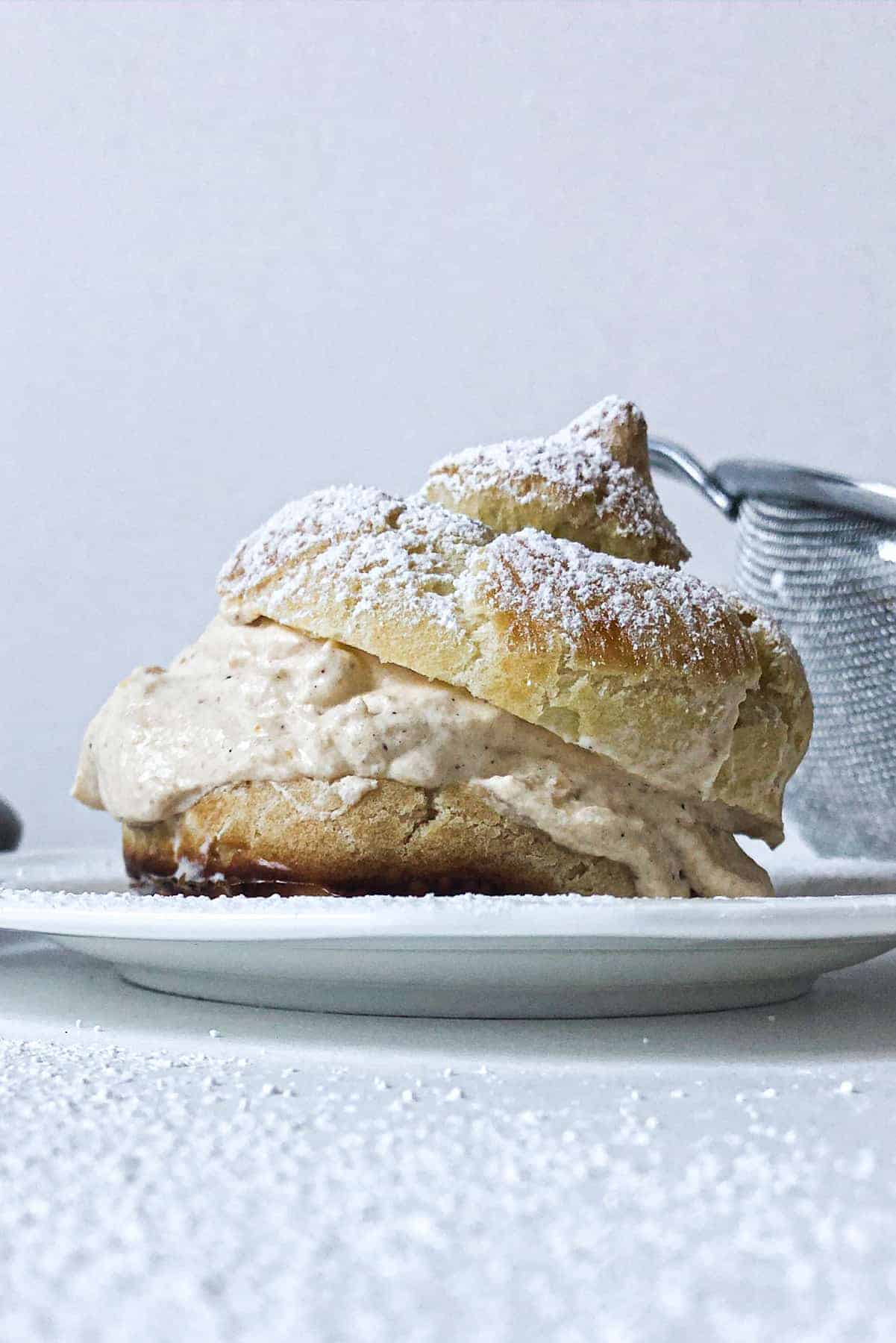 ---
About
I have a strange obsession with cream puffs. I grew up on a farm and showed steers and pigs at the county fair every year. And the most popular item at the Racine County Fair? The cream puffs.
However (I'm embarrassed to admit this), I didn't even like whipped cream until I was about 18. I was a little weird about food textures, and whipped cream was too, well, creamy! But then I decided to no longer be a crazy person and now I barely ever have a dessert without accompanying whipped cream.
So now I'm trying to make up for all my years without whipped cream, and cream puffs are the best place to start. Since it's almost Thanksgiving, I've put a pumpkin spice twist on these babies so they are ohhhh so delectable. One bite is all you need and you'll fall in love (see what I did there?). Did I mention these only take 1 HOUR from start to finish? They are deceptively easy, and everyone will be very impressed when you tell them all about how you made pâte à choux pastry (the fancy name for cream puff dough).
Ingredients
The Puffs: Ah, pâte à choux. The most delightful of all pastries. When done right, this puffs up to double its size, creating giant pockets of air in the middle with a crispy, golden-brown outer shell. My FAVORITE! You can use this type of pastry for cream puffs, profiteroles, and eclairs.
Choux pastry uses air and moisture from the dough to rise, rather than a chemical agent like the usual baking soda or baking powder. If you want to learn all about choux pastry, or you've had a few bad experiences, check out this article- she goes through all of the good, the bad, and the ugly of choux!
Notes
Storage: Store the whipped cream in the refrigerator for up to 2 days, and the puffs in the refrigerator for up to 3 days or in the freezer for several weeks.
Other Recipes You Might Like: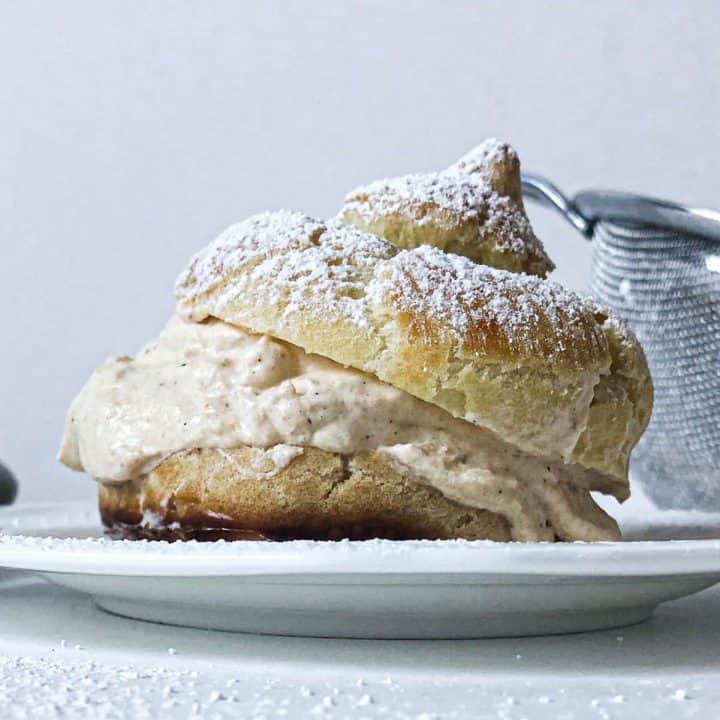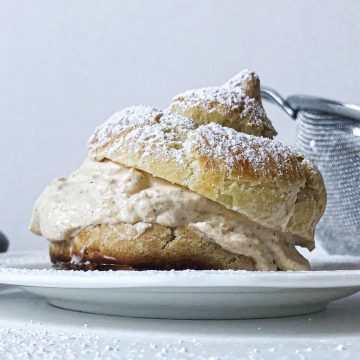 Pumpkin Spice Cream Puffs
These pumpkin cream puffs are light as air and filled with slightly sweet, slightly spicy pumpkin spice whipped cream to make this the perfect warm fall evening dessert.
Ingredients
Puffs
1

cup

water

½

cup

unsalted butter

½

teaspoon

salt

1

cup

all-purpose flour

4

eggs

room temperature

1

egg yolk

room temperature

2

tablespoon

milk
Pumpkin Spice Whipped Cream
1

cup

heavy whipping cream

straight from the fridge

½

cup

sugar

3

tablespoon

pumpkin puree

1

teaspoon

cinnamon

⅛

teaspoon

nutmeg

¼

teaspoon

dried powdered ginger

1

teaspoon

vanilla
Sprinkling
¼

cup

powdered sugar

for sprinkling
Instructions
Make the Puffs.
Combine water, butter, and salt into a medium saucepan. Bring to a boil.

Turn heat to low and add flour all at once. Stir until the mixture all sticks together (about 30 seconds), then remove from heat. Allow to cool for 1 minute.

Add eggs, one at a time, stirring vigorously to incorporate (you can use an electric hand mixer if you have one). After all eggs are incorporated, continue stirring vigorously until glossy.

Drop spoonfuls of the pastry dough, about ¼ cup, onto a parchment-lined baking sheet.

Whisk together egg yolk and milk. Brush the mixture over the puff dough.

Bake for 35 minutes. Allow to cool before filling and serving.
Make the Pumpkin Spice Whipped Cream.
Combine pumpkin, sugar, whipping cream, vanilla, cinnamon, ginger, and nutmeg in a bowl.

Whip using a whisk attachment until the whipped cream is light and airy and results in stiff peaks when the whisk is removed. Refrigerate for up to 1 day until ready to go in puffs.
Assemble the Puffs.
Cut the cream puffs in half, like you're making a sandwich with it. Pipe or spoon whipped cream in. Sprinkle with powdered sugar, then enjoy!
---
Did you make these pumpkin cream puffs? I want to know! Post it on social media, tag @battersandblessings, and add #battersandblessings so I can see your creation 🙂
---
You Might Need...