This post may contain affiliate links.
---
Half the reason I love fall is because it's time for salted caramel. Salted caramel lattes, salted caramel desserts, allllll the salted caramel. Lucky for you, this salted caramel syrup recipe is so versatile, you can add it to whatever you want and get all the fall flavors in every bite (or sip!). Put this stuff on ice cream, in your coffee, and when your family isn't watching, just take a spoonful. I won't judge 😉
---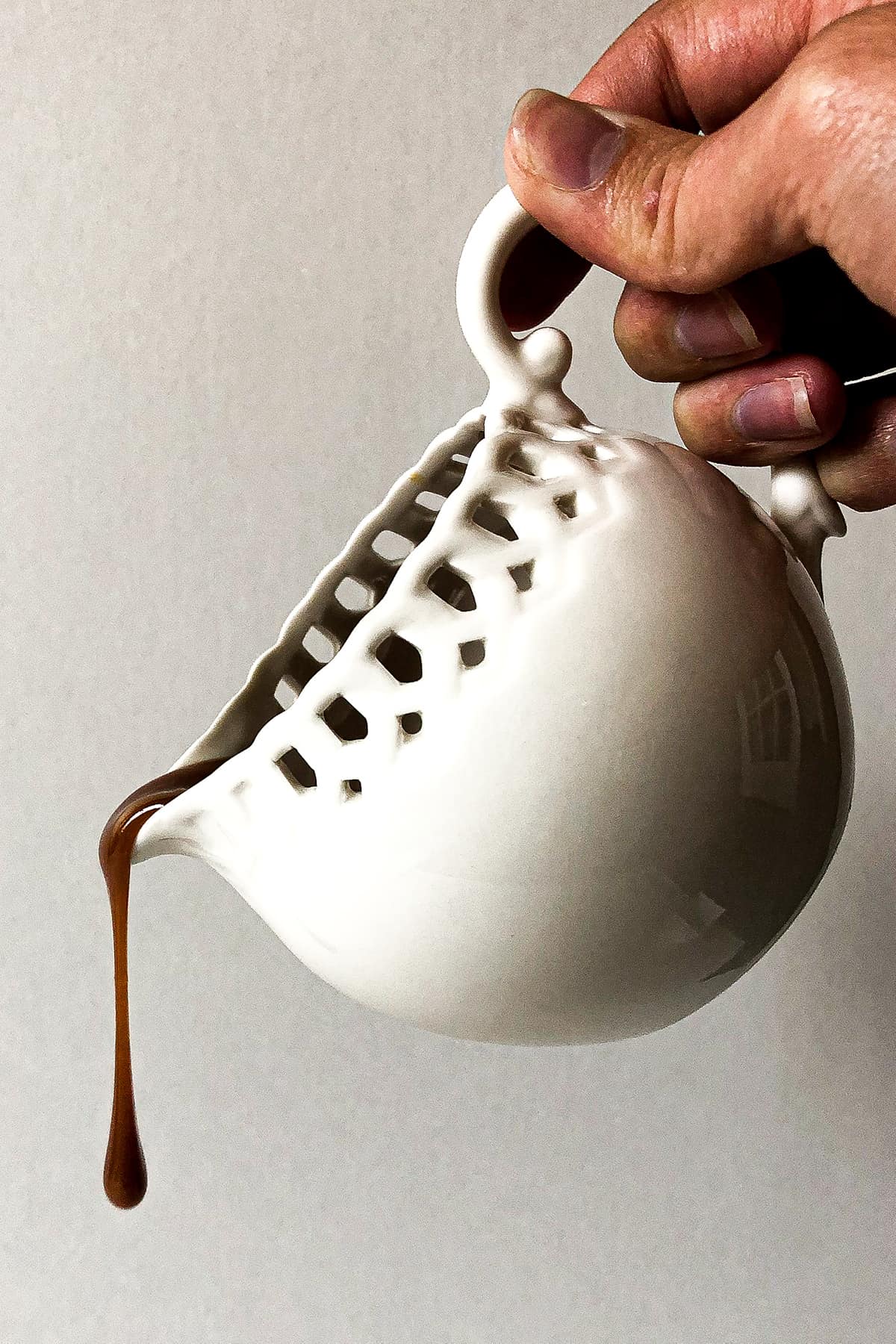 ---
About
It's fall, y'all! Today is the first day in what feels like 3 months of 90+ degree heat in Atlanta.
My inner southern woman is coming out in full form this October. Fall is my favorite season in Georgia. I can't get enough of the leaves changing, cute sweaters (hopefully I'll be able to wear some soon), and sitting outside and studying God's word at a coffee shop with a warm Chai in my hands. I've got fall flowers in all my vases, a pumpkin wreath on my front door, and brought out my fall leaf table runner. Apple cider is in the fridge, I've got a Target run planned for tomorrow after church to put together a "Boo!" basket for when our house get's "Booed!", and I'm starting to plan for Halloween.
The past few years, Chris and I have gone as Beauty and the Beast, because I have a yellow dress and he has a Beast costume from a while back. We bring a speaker out to our front yard and play the Beauty and the Beast soundtrack as we hand out candy. It's so fun. But this year, I'm blonde! So our usual won't work. Maybe we'll shift gears to Cinderella and Prince Charming…
Fall is a season of intentionality for me. I find it easier to slow down and just take a breath, after the "go-go-go" of summer activities. Not to mention, fall desserts are unrivaled. Pumpkin pie. Peach cobbler. Apple squares. All the apples, pumpkin, cinnamon, ginger, sweet potato, nutmeg, pears. I can't get enough.
Is there any topping more "fall" than salted caramel syrup? Sweet, salty, sticky, so, dang, good. The other day, I made it for my small group to go with my New York Cheesecake. But don't limit yourself- this would taste amazing with just about anything. You name it, you add it. Then take a picture and send it to me because I never get tired of dessert pictures.
---
Ingredients
Heavy Cream
This is one of the keys to the caramel. These are what make them rich and delicious. However, like I mentioned- caramels are finicky. When you make caramels, there's a stage when you add cream to the caramel mixture and it bubbles up violently. And the first time I tried these out, I wasn't prepared for it, so the pan overflowed and I had burnt caramel on my pan and my stovetop. Not ideal. So be prepared and have a slightly oversized pan to make these in, so you don't make the same mistake I did!
---
Tips for Making Salted Caramel Syrup
Handling the Heat
A candy thermometer is instrumentally helpful in making these caramels. If you have time before you make these, invest in one! This is the one I have- only $20 and will make your life so much easier while making these!
Start on a low/medium heat. High heat can make the mixture heat too quickly, easily leading to burnt sugar!
Step 2 in the recipe below says, "Heat the mixture on medium, never stirring, until the whole mixture becomes a light brown (about 10-15 minutes). Be careful, it burns quickly once browned, so immediately move onto the next step." Note that once the sugar turns to amber, it VERY QUICKLY turns to burnt. Be sure to have your cream mixture prepared and ready to pour in immediately when the sugar is amber.
Preventing Crystallization
One main problem that people often have with caramels is crystallization of the sugar. This can happen if there's sugar crystals that do NOT heat up with the rest of the mixture. If these crystals then come into contact with the mixture, it causes the entire batch to break. The usual suspect is sugar on the sides of the pan that doesn't get coated with water before heating. To avoid this, you have 2 good options:

Use a wet pastry brush to brush down the side of the pan before starting.
For the first few minutes of the caramel cooking, cover the pan. The steam will cause enough moisture to moisten and warm up the sugar crystals on the side of the pan.
---
Notes
Storage: Store in the refrigerator for up to 1 month. Store in a heat-proof bowl, as you'll want to heat up the caramel before serving
This salted caramel drizzle pairs well with:
Other recipes you might like:
---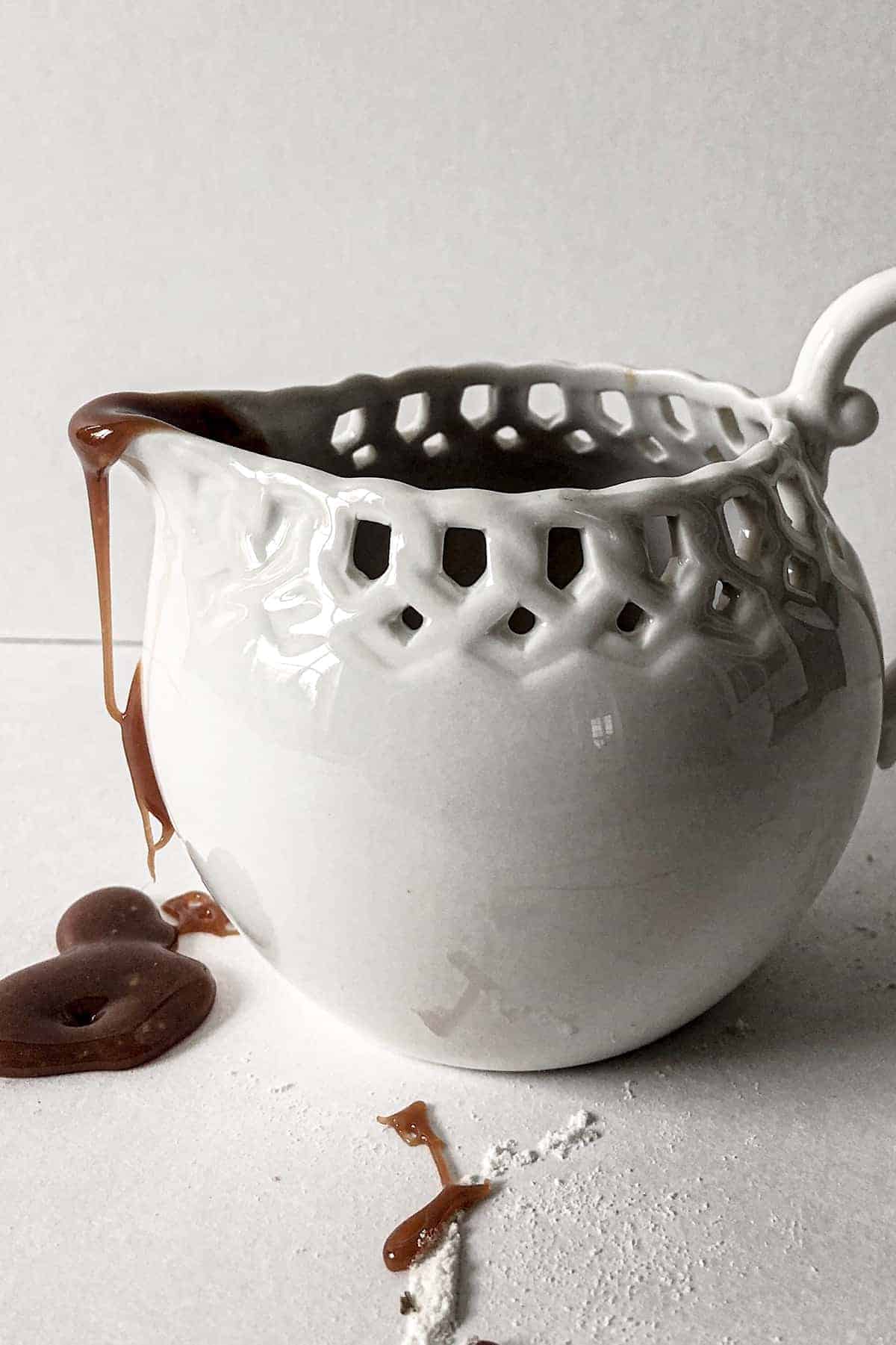 ---
Salted Caramel Drizzle
Half the reason I love fall is because it's time for salted caramel. Salted caramel lattes, salted caramel desserts, allllll the salted caramel. Lucky for you, this salted caramel syrup recipe is so versatile, you can add it to whatever you want and get all the fall flavors in every bite (or sip!). Put this stuff on ice cream, in your coffee, and when your family isn't watching, just take a spoonful. I won't judge 😉
Ingredients
¼

cup

water

1

cup

sugar

¼

cup

heavy cream

3

tablespoon

unsalted butter

softened

¾

teaspoon

salt
Instructions
Put ¼ cup water and sugar into a sauce pan, and do not stir. Swirl the sugar and water together until sugar is dissolved. Take a wet pastry brush and wet the sugar crystals on the sides of the pan to ensure all sugar crystals are moist. This will prevent crystallization of the mixture later on.

Heat the mixture on medium, never stirring, until the whole mixture becomes a light brown/amber color (about 10-15 minutes). Be careful, it burns quickly once it's at this stage, so immediately move onto the next step.

Vigorously whisk in heavy cream until fully incorporated and smooth. The mixture will bubble significantly during this step.

Transfer to a heat-proof bowl, and add in butter and salt. Stir until the butter is melted.

Once cooled, do a taste test and add more salt if desired.

Voila! Now you can make everything taste like fall 🙂
---
Did you make this salted caramel syrup? I want to know! Post it on social media, tag @battersandblessings, and add #battersandblessings so I can see your creation 🙂
---