This post may contain affiliate links.
---
Making cookies may seem straightforward, but there are a lot of ways to level-up your cookie baking. Learn the secrets to baking cookies below!
---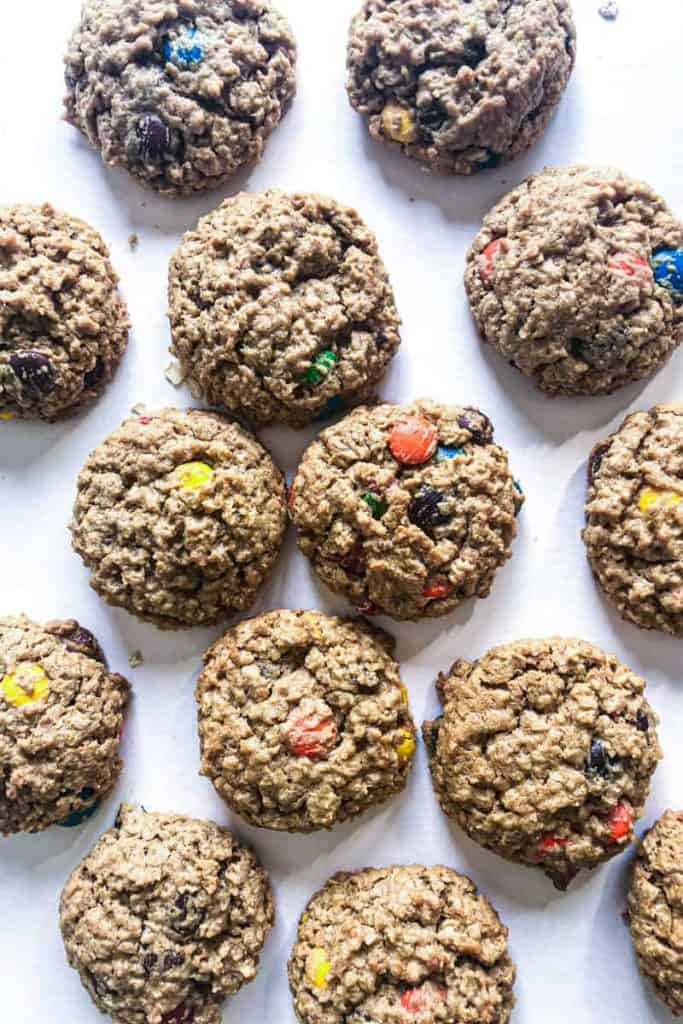 ---
Customize Your Cookies
Fluff Them Up: If you like fluffier cookies, add ¼ - ½ cup of extra flour to fluff them up!
Sweet & Salty: I'm a big fan of sweet & salty, so depending on what type of cookies I'm making, I always like to add a bit more salt. If you're the same, try adding ¼ - ½ teaspoon extra salt to the dough, or sprinkle sea salt on top before baking for an insta-and-tastebud-worthy finish.
Nice & Chewy: To make a cookie chewier, you have a few options: 1) use melted butter, and 2) decrease the amount of butter and add an extra egg. However, this isn't a one-size-fits-all-cookies sorta thing, so it might require a few batches to perfect. I'm sure you can find someone to eat your trial cookies, though 🙂
Crispy: For a little more snap when you dig into your cookie, replace half (or even all!) of the brown sugar with granulated sugar.
Mix It Up: For cookies that have an "add-in" like chocolate chips or M&Ms, play around with different additions to the dough instead for fun twists every time you make them.
---
Mix
Cream Butter and Sugar: To develop a lighter, more structured cookie, use room-temperature butter, and cream together the butter and sugar for 3-5 minutes before baking. You'll know it's done when you can no longer feel sugar granules while rubbing it between your fingers. Just trust me on this one- this is a worthwhile step.
Don't Overmix: While creaming the butter and sugar together is a crucial step, all other mixing that you do while making cookies should be JUST until combined. That means that when you put in all of the other ingredients, you only mix until you can't see the ingredient on its own anymore. If you mix longer than that, you risk overmixing the dough which can change the texture significantly. If you're not sure, lean towards undermixing!
Chill the Dough: For cookie dough that is particularly sticky, chilling the dough beforehand not only makes it easier to scoop but also prevents excess spreading while baking. Just be sure to leave it back out on the counter for about 10 minutes after chilling so it isn't rock-solid.
---
Bake
Only One at a Time: Only bake one batch in the oven at a time. Any more than that and the temperature will decrease, and the cookies won't brown as nicely. If you're in a time crunch, you can, but then rotate them halfway through baking to try to get an even bake on both of the batches.
Pay Attention to Your Senses: Your senses should be the main thing you use when determining how long to bake your cookies. Pay attention to the smell and look of the cookies when determining when to take them out. For most cookies, they should just be starting to brown around the outside- that's when you know they're done!
The Pan Matters: The pan that you use while baking your cookies matters! Darker pans retain more heat, and will therefore bake your cookies a bit faster, as well as help them brown more around the edge. Lighter pans bake them a bit slower, without as much browning. Both work equally well- you'll just have to practice getting yours exactly right!
---
To Make Your Life a Little Easier
Shorten Clean Up: Make your clean-up 1000% easier by putting a sheet of parchment paper on the baking sheet prior to putting the dough on, then when you're done baking, you can throw the parchment paper away and your baking sheet can go right back in the cabinet.
Bake and Freeze: Y'all- I have NO self-control when it comes to sweets. None. Zero. Zilch. If it is in the house, I WILL eat it. Unfortunately, my husband is the same, so we have to find ways to satisfy our sweet tooth without gaining 12 lbs per batch of cookies. If you can relate, try this: once you make the dough balls, only bake as many as you need at the time. Then, you can throw the rest of the balls in a Ziploc and into the freezer for a rainy day. This has 2 main benefits: 1) you'll have ready-to-bake homemade treats at your convenience without having to get flour all over the kitchen and 2) the gaining of 12 lbs is spread out over a few weeks instead of all in one day.
Now that you're an expert, test out these secrets to baking cookies on these recipes:
---
Equipment
Here's a few things that I use while baking cookies:
Let me know if you used these secrets to baking cookies! Tag me on Instagram or Facebook with all your cookie-baking adventures.