This post may contain affiliate links.
---
A flaky cinnamon crust gives way to a beautifully creamy vanilla bean custard, topped with perfectly tart cranberries. This cranberry custard pie will be the hit of every holiday party from Thanksgiving to New Years!
---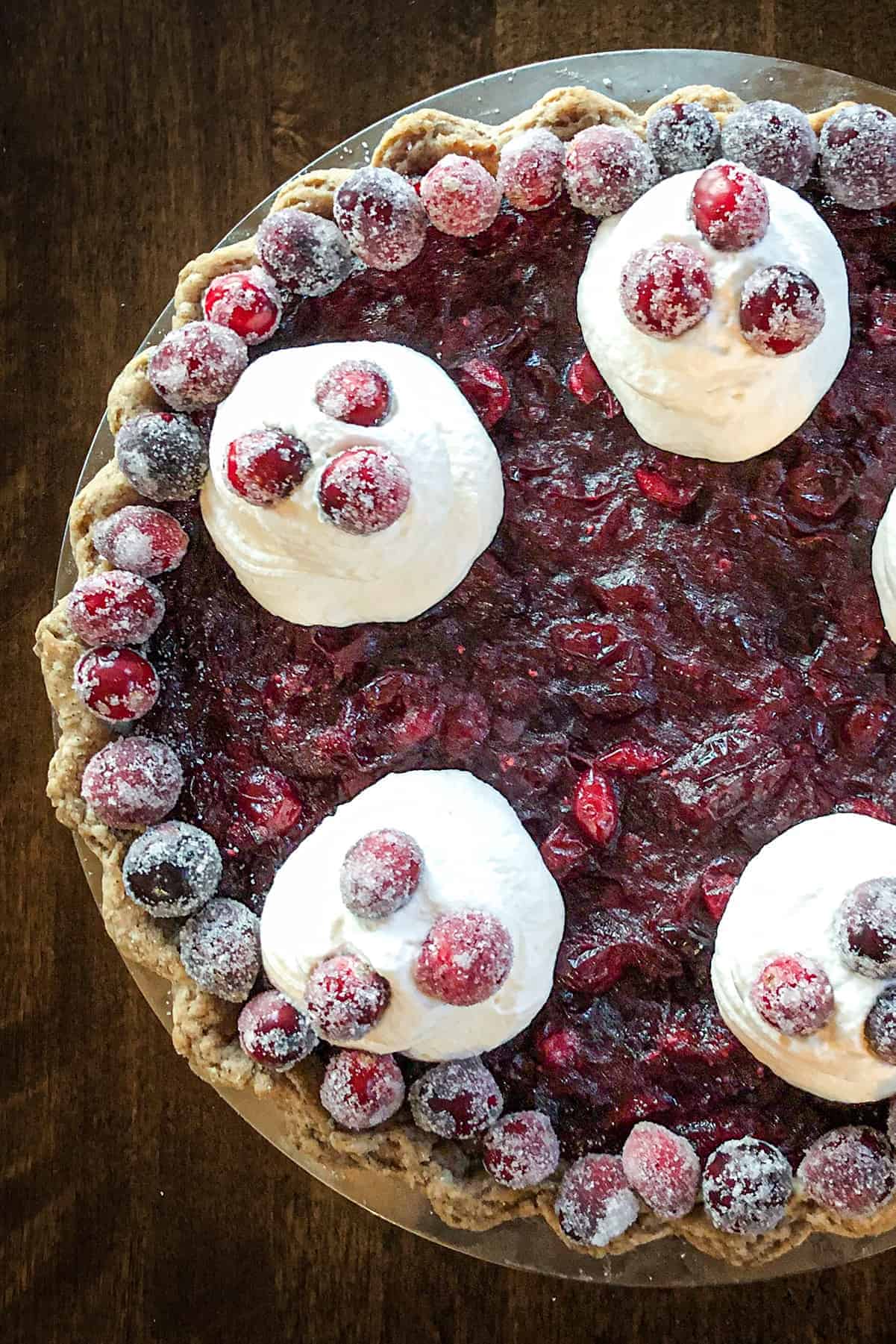 ---
About
Alright fam. Here's the deal. This holiday, I'm encouraging you to do what you might think is impossible: make a vanilla bean custard from scratch.
Just hear me out!
All it takes is a good recipe, a few prayers, and some patience to get this custard just right. I can supply you with 2- you've got the last one 🙂
Custard is not as hard as everyone makes it sound, as long as you follow the directions. Some pie recipes are fine if you go rogue. This is not one of those recipes. But the good news is- I've got a recipe below that WILL work if you follow the steps, and then you'll be done before you know it. And don't worry- I've included lots of tips below to make sure that you're successful in your custard adventures.
And at the end of the day, when you put it together with the cinnamon crust and the tart cranberry sauce, you'll have a showstopper on your hands!
---
Ingredients
Custard
Let's be real- this part can be a little intimidating! So let me give you some pointers on some of the steps to ensure you're successful.
You'll start by mixing together the corn starch and milk, then will add egg yolks. Be sure there aren't any lumps of corn starch remaining. If there are, strain them out. There's nothing worse than little bits of un-mixed corn starch in your delicious pie.
Continue to follow the directions, heating the heavy cream mixture over medium heat until juuuuuust starting to bubble. Don't let it burn!
Now this is when things get tricky- but you've got it! You'll need to VERY SLOWLY start to pour the warm heavy cream mixture into the egg and corn starch mixture while vigorously whisking them together. When I say very slowly, I mean about a few tablespoons worth at a time, and when I say vigorously, I mean it! The goal here is to warm up the egg mixture without cooking the egg, so it has to be done slowly. Once the mixtures are fully incorporated, you can pour it all back into the pot and continue cooking.
You'll want to cook it until it's pretty thick, a bit thicker than cake batter. This takes different amounts of time depending on how hot your stove is, but it usually takes me about 20 minutes. When in doubt, cook the custard slowly (i.e., a lower temp). You can always cook it for longer if needed, but you can't bring a curdled or burnt custard back to life!
Once it's pretty thick- again, a bit thicker than cake batter (use your judgment here, it doesn't have to be perfect)- take it off the stove, immediately put it in a heat-proof bowl, and let cool a bit. Once it's cooled off slightly, put plastic wrap over the custard (literally touching the custard itself, this helps to keep the custard all the right texture rather than having a film on the top of the custard), then over the sides and finish cooling fully in the refrigerator.
Congrats!!!! You're done!!! #CrushedIt
Vanilla Beans
My all-time favorite ingredient! So so good! Now, if you go to the store and look at vanilla beans, you might find that they are VERY expensive (I've seen them up to $25 per bean!!). If you feel like splurging for the holidays, I PROMISE you won't regret it, but there's something else you can do if you want your money to go a little further: get vanilla bean paste! This is paste, about the consistency of maple syrup, that houses all of the vanilla bean goodness. The great news is, though this is also about $25, you'll get many many more times use out of it than a regular vanilla bean. Vanilla beans are one and done; there are a few things you can do with the bean after you use it, but generally, I just end up throwing mine away! However, the vanilla bean paste is about the size of a bottle of vanilla extract, so it lasts a lot longer and gives you more bang for your buck! You can get some here on Amazon, or at your local kitchen store (i.e., Williams Sonoma).
---
Notes
Storage: Store covered in the fridge for up to 3 days
Pie Size: The recipe below is for an 8 inch pie, but I'd reckon it would work just fine for a 9 inch pie as well!
Other Recipes You'll Love:
---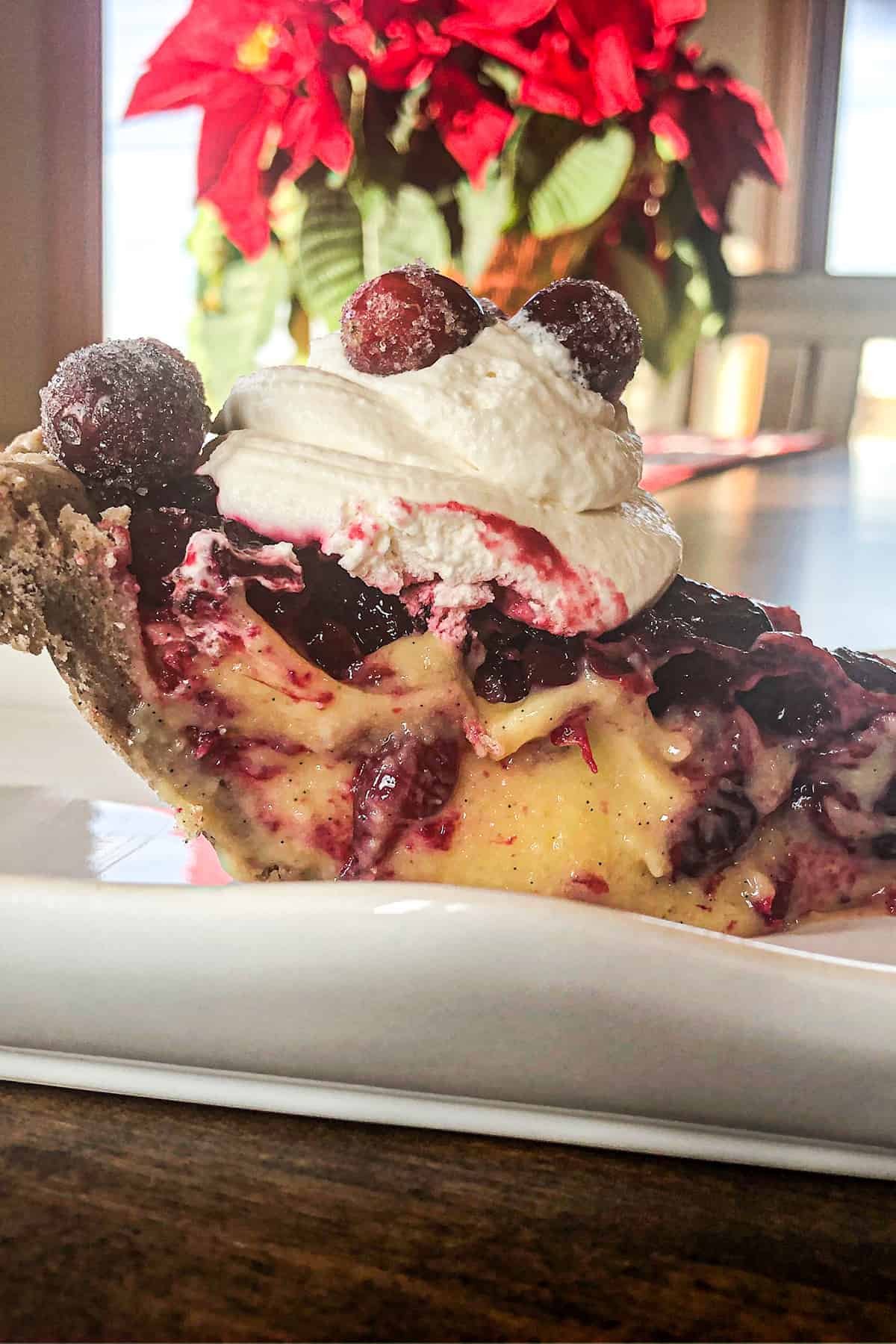 ---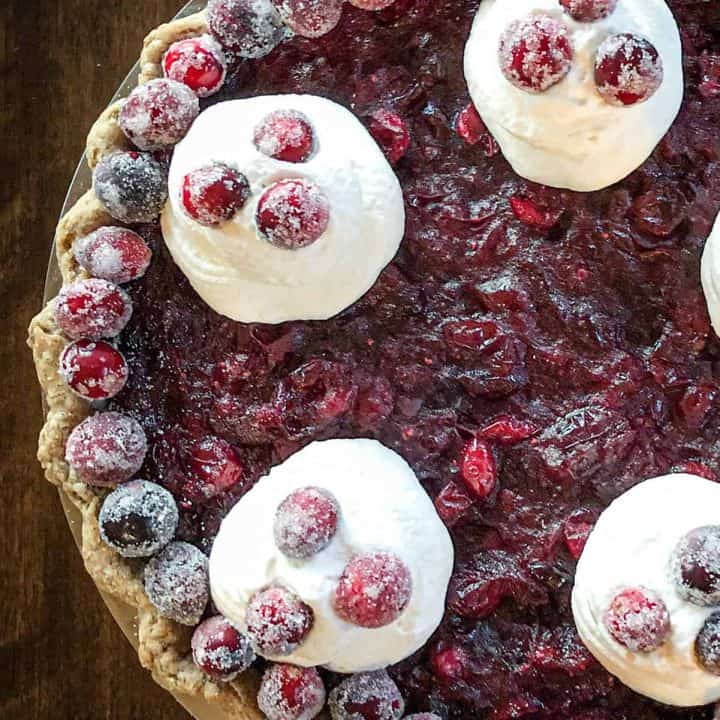 Cranberry Custard Pie
A flaky cinnamon crust gives way to a beautifully creamy vanilla bean custard, topped with perfectly tart cranberries. This pie will be the hit of every holiday party from Thanksgiving to New Years!
Ingredients
Cinnamon Pie Crust
2

cups

flour, all-purpose

2

teaspoon

cinnamon

1

teaspoon

salt

⅔

cup

plus 2 tablespoon shortening

4-6

tbsp

ice cold water
Cranberry Sauce
24

oz

fresh or frozen cranberries

1

cup

sugar

Juice from 2 oranges

Zest from 2 oranges

1

cinnamon stick
Custard
½

cup

corn starch

½

cup

milk (any kind)

8

egg yolks, room temperature

2

cups

sugar

4

cups

heavy cream

2

vanilla beans or 4 teaspoon vanilla bean paste
Instructions
Prepare the Custard.
In a large bowl, mix together corn starch and milk until smooth (no lumps remaining). Add egg yolks and whisk to combine.

Using a knife, slice open the vanilla beans length-wise, and scrape out the little seeds. Place the seeds in a large pot with the sugar and heavy cream.

Heat the pot with the heavy cream over medium until just starting to bubble.

Remove the pot from the stove, and VERY SLOWLY (a few tablespoon at a time) pour the heavy cream mixture into the egg mixture, whisking constantly and quickly.

Once all of the heavy cream mixture is incorporated, pour everything back into the pot. Heat over medium heat, stirring constantly. Be careful that the mixture does not stick to the bottom of the pan.

Stir until your custard is quite thick (it should be a little bit thicker than cake batter). This takes different amounts of time depending on how hot your stove is, but it took me about 20 minutes. Remove from heat and pour into a mesh strainer over a large bowl.

Chill in the fridge until completely cool, about an hour.
Make the Cranberry Sauce.
Combine and stir all ingredients in a large pot.

Heat over medium heat until cranberries are popped and the juices turn into a jam-like consistency.

Remove from heat and pour into a bowl. Put in fridge until completely cool, about an hour.
Prepare the Pie Crust.
Combine flour, cinnamon, and salt in a bowl.

Cut in shortening using a pastry blender, knife, or hands, until the largest pieces are about the size of hazelnuts.

Sprinkle in water, 1 tablespoon at a time, moistening the flour with your hands or a fork. Gather into a ball. If the ball crumbles easily, continue adding 1 tablespoon of water at a time and working into the dough until no longer crumbly.

Flour a large board or countertop. On the floured surface, roll dough out into about a 12 inch circle or until about ⅛ of an inch thick. Every so often, use a pastry scraper or a knife to lift up the dough and sprinkle flour underneath to keep the dough from sticking to the surface.

Using the rolling pin, transfer the dough to the pan (roll the dough up onto the rolling pin, then move to the pan and unroll).

Trim the crust at the top edge of the pan, and if desired, decorate edges of crust. I like to crimp the edges by pressing one side of the crust with my thumb and pointer finger, and the other with the thumb of my other hand. I work my way around the whole crust until it is all crimped.

Refrigerate the prepared crust for 30 minutes (this part is necessary, otherwise your crust will fall while in the oven).

Poke the bottom of the pie crust with a fork about 10 times. Line pie crust with foil, and put pie weights onto the foil (you can also use dry beans or coins). Bake the pie crust at 425 for 10 minutes, then remove weights and foil. Bake for another 5 minutes.

Let rest on the counter until cool.
Put It All Together.
Once everything is completely cooled, put the custard filling into the bottom of the pie crust and smooth. Put the cranberry sauce on top of the custard filling and smooth.

Place pie in preheated oven and bake for 45 minutes. If the crust starts to brown too much, you can put a ring of foil over it.

Remove pie from oven and cool completely, preferably in the fridge for at least 4 hours before serving. Note that if you serve it before cooling it completely, the custard will be a little mushy. Still delicious, but mushy.

If you want to decorate the pie similarly to how I have in my pictures, use the whipped cream and sugared cranberry recipes on my site!
---
Did you make this cranberry custard pie? I want to know! Post it on social media, tag @battersandblessings, and add #battersandblessings so I can see your creation 🙂
---
You Might Need...