This post may contain affiliate links.
---
These mini strawberry rhubarb tarts are my new fav: a buttery, flaky crust paired with sweet strawberries and tart rhubarb, and topped off with Italian meringue. It really doesn't get any better than this.
---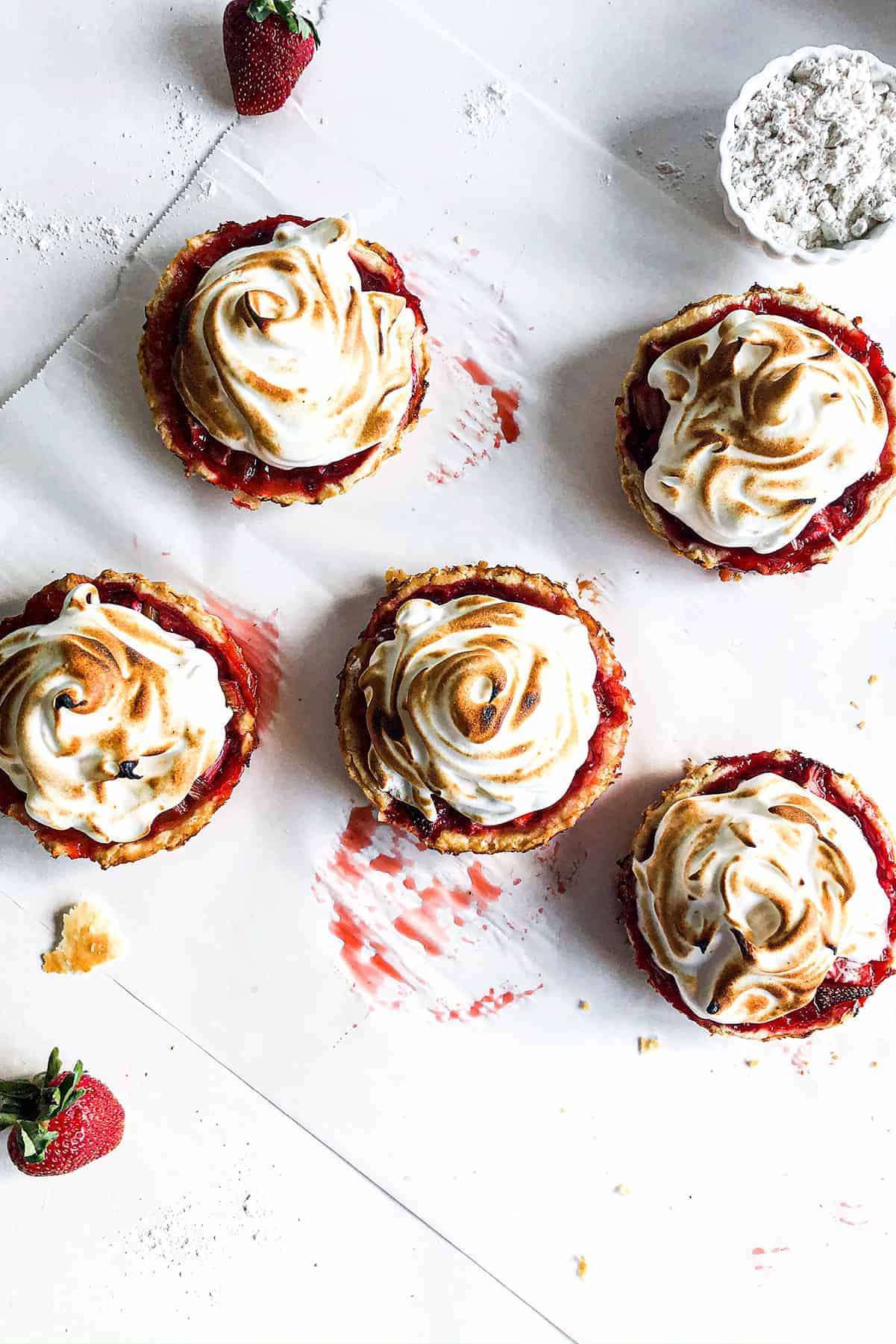 ---
About
Y'all know me- my favorite way to love others is to bake for them! These mini strawberry rhubarb tarts are DEFINITELY the way to go if you're trying to show love. There's nothing that says "I love you" quite like the most delicious bite they've ever had.
If you've never had the strawberry rhubarb combo before, you NEED to make these. Strawberries are pretty good on their own. Rhubarb, well, needs a lot of sugar. But put the 2 together? They are a match made in heaven.
Italian meringue is a little challenging, so you can definitely make regular meringue if you're intimidated. However, if you're up for it, give the Italian meringue a shot! It firms up so well, and is more stable than regular meringue. It's extra pillowy and delicious, so you definitely won't regret it.
Whip them up, then let me know what you think!
---
Ingredients
The Crust: This is the flakiest, butteriest, deliciousest (new word alert!) thing you've ever eaten, and it pairs perfectly with all the other elements of this dessert.
The Filling: Strawberries and rhubarb are a match made in heaven. Seriously- I like strawberries. I like rhubarb. But the 2 together make this entirely other-worldly flavor that with the buttery crust and fluffy meringue is the boooooomb. Unless you're in the midwest, you may have trouble finding fresh rhubarb at the grocery store. No worries, though! Hop on over to the frozen aisle and grab a frozen bag! It works just as well and is so easy.
The Meringue: Baking fun fact- there are 3 types of meringue: Swiss, Italian, and French.
French Meringue: You're probably most common with this type of meringue! You whip soft peaks from the egg whites, then add the sugar and beat until stiff peaks form. It's super fluffy, but not super stable. These are usually used to bake meringues, or folded into batters (such as lady fingers) to be baked.
Swiss Meringue: This type of meringue is made by heating the sugar and egg whites together on a double boiler, then whipping to stiff peaks. It doesn't fluff up as much as the other types, but has a super silky smooth texture. It's usually used for buttercream frostings.
Italian Meringue: This is the most stable of all meringues. It's made by heating the sugar on the stovetop until 240 degrees, then whipping the heated sugar into the whipped egg whites after soft peaks have formed. It's usually used to top pies, frost cakes, or lighten up ice creams or sorbets.
Because of the stability of Italian meringue, it is the perfect topping for these tartlets. So you'll see the instructions to make the meringue below! If you're not feeling adventurous (or you don't have a candy thermometer), opt for a regular french meringue! It'll still taste delicious. You can find a French meringue recipe here. If you don't have a candy thermometer but still want to go for the Italian meringue, check out this link which details how to identify how hot your sugar is without a candy thermometer.
---
Notes
Storage: These sweet babies will last in at room temperature for up to 6 hours. If storing for more than 6 areas, put in an airtight container in the refrigerator for up to 2 days.
If unable to store in an airtight container, put toothpicks in the top of the meringue, then lightly drape plastic wrap over it, trying to not let the plastic wrap touch the meringue. This will help to avoid the classic meringue "weeping" when in the refrigerator.
Other Recipes You May Like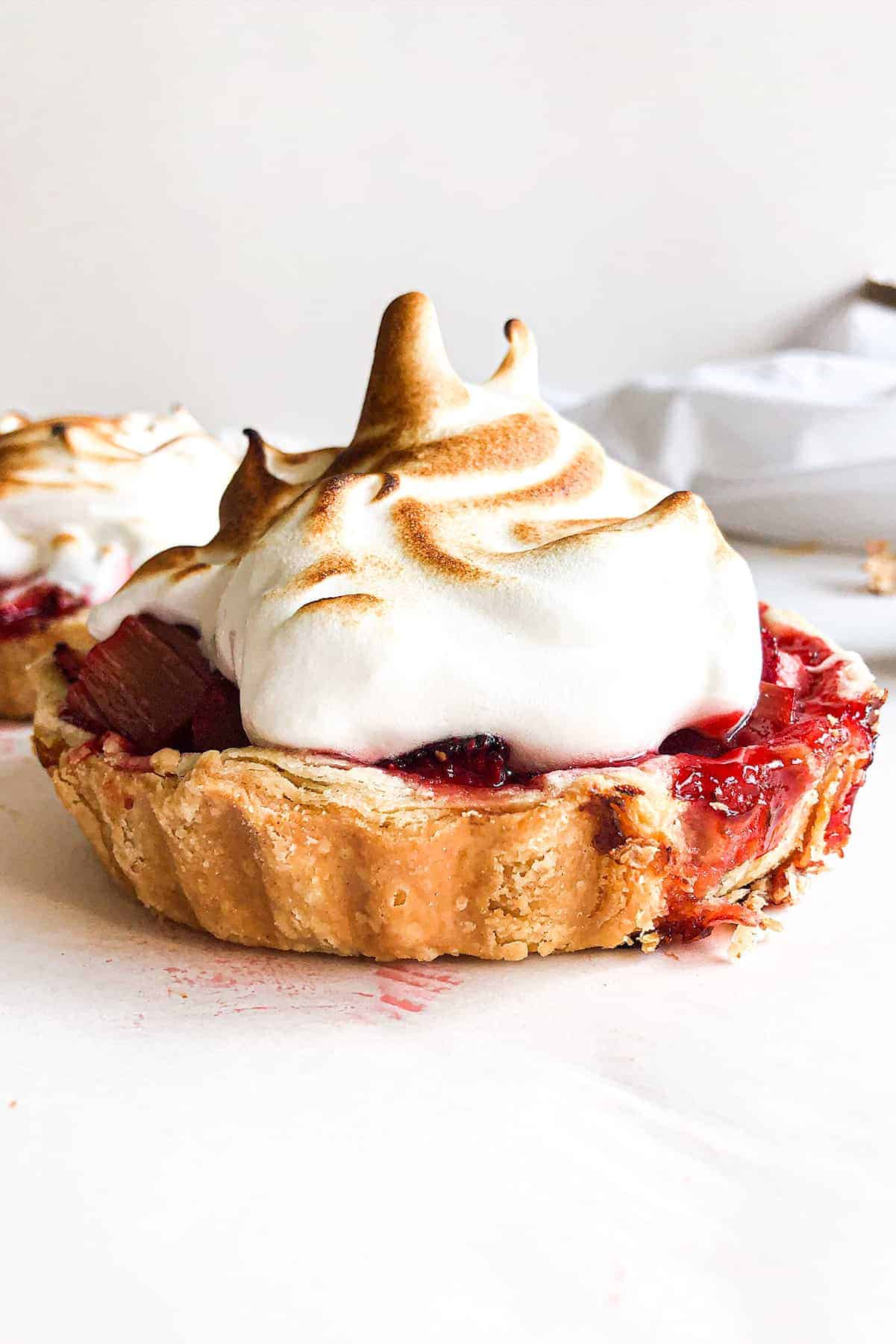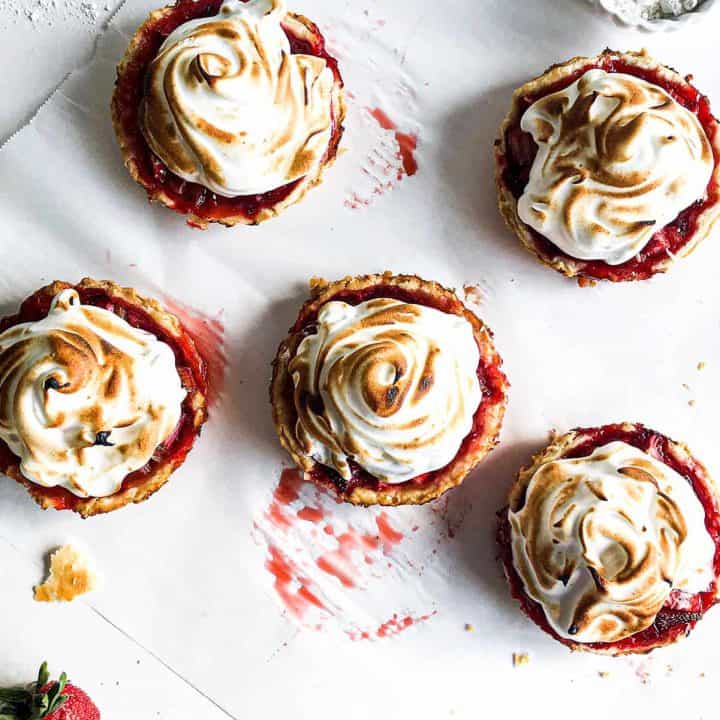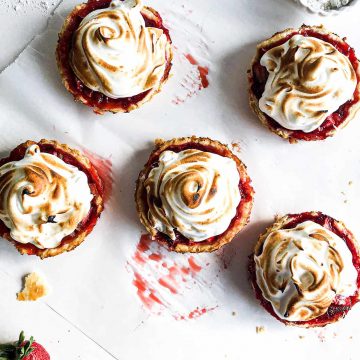 Mini Strawberry Rhubarb Tarts
These mini strawberry rhubarb tarts feature a buttery, flaky crust paired with sweet strawberries and tart rhubarb, all topped off with Italian meringue.
Ingredients
Crust
1

stick

unsalted butter

straight from the fridge

2

tablespoon

sugar

1

teaspoon

salt

1 ¼

cups

all purpose flour

1

egg yolk

straight from the fridge

4-8

tablespoon

ice cold water
Filling
2

cups

rhubarb

chopped

2

cups

strawberries

quartered

⅓

cup

sugar

2

tablespoon

corn starch
Italian Meringue
5

egg whites

¼

teaspoon

cream of tartar

1

cup

sugar

¼

cup

water
Instructions
Make the Crust
Combine the flour, sugar, and salt.

Cut the butter into small cubes, then add to the flour mixture and toss to coat. Using your fingers, "snap" in the butter so the cubes break apart and become long and thin.

In a small bowl, combine the egg yolk with 4 tablespoon water.

Add the egg yolk mixture into the flour mixture, and toss to coat. Add additional water as needed, until the dough is fully hydrated. You'll be able to tell that the dough has enough water when you can shape it into a ball, and it doesn't crumble when you pull the ball apart. When in doubt, add an extra tablespoon of water.

Refrigerate the dough while you make the filling.
Make the Filling
Combine chopped rhubarb, quartered strawberries, sugar, and corn starch in a bowl.
Make the Tarts
Remove the dough from the refrigerator. Flour you rolling surface, then roll the dough out with a rolling pin until it is about ⅛ to ¼ inch link. Place the crust into the pan. You can use a tartlet pan, as I did, or use a full tart or pie pan. Whatever you have will work!

Put the filling into the prepared crusts. Take care not to overfill, or the juices will run into the crust and make it soggy.

Bake the tarts for 35-45 minutes, or until the crusts are golden brown. This may take longer for larger tarts. Determine when to take it out based on the golden brown color of the crust.
Put It All Together
Once you've taken the tarts out of the oven, spoon the meringue on top of the warm tarts, then caramelize the meringue. You can either do this with a kitchen torch, or you can preheat the oven to 450, place the oven rack towards the top of the oven, then bake until the meringue becomes slightly golden brown.

Let cool for at least one hour, then dig in!
Notes
Cover and store in the refrigerator for up to 2 days.
---
Did you make these mini strawberry rhubarb tarts? I want to know! Post it on social media, tag @battersandblessings, and add #battersandblessings so I can see your creation 🙂
---
You May Need...
---
Sources: