This post may contain affiliate links.
Chocolate chip cookie bars get leveled up with some brown butter and one-bowl action. These cookie bars are loaded with chocolate chips and get a serious depth of flavor from brown butter, but are still SUPER simple and quick to put together. Perfect for a lazy day, these bars are calling your name!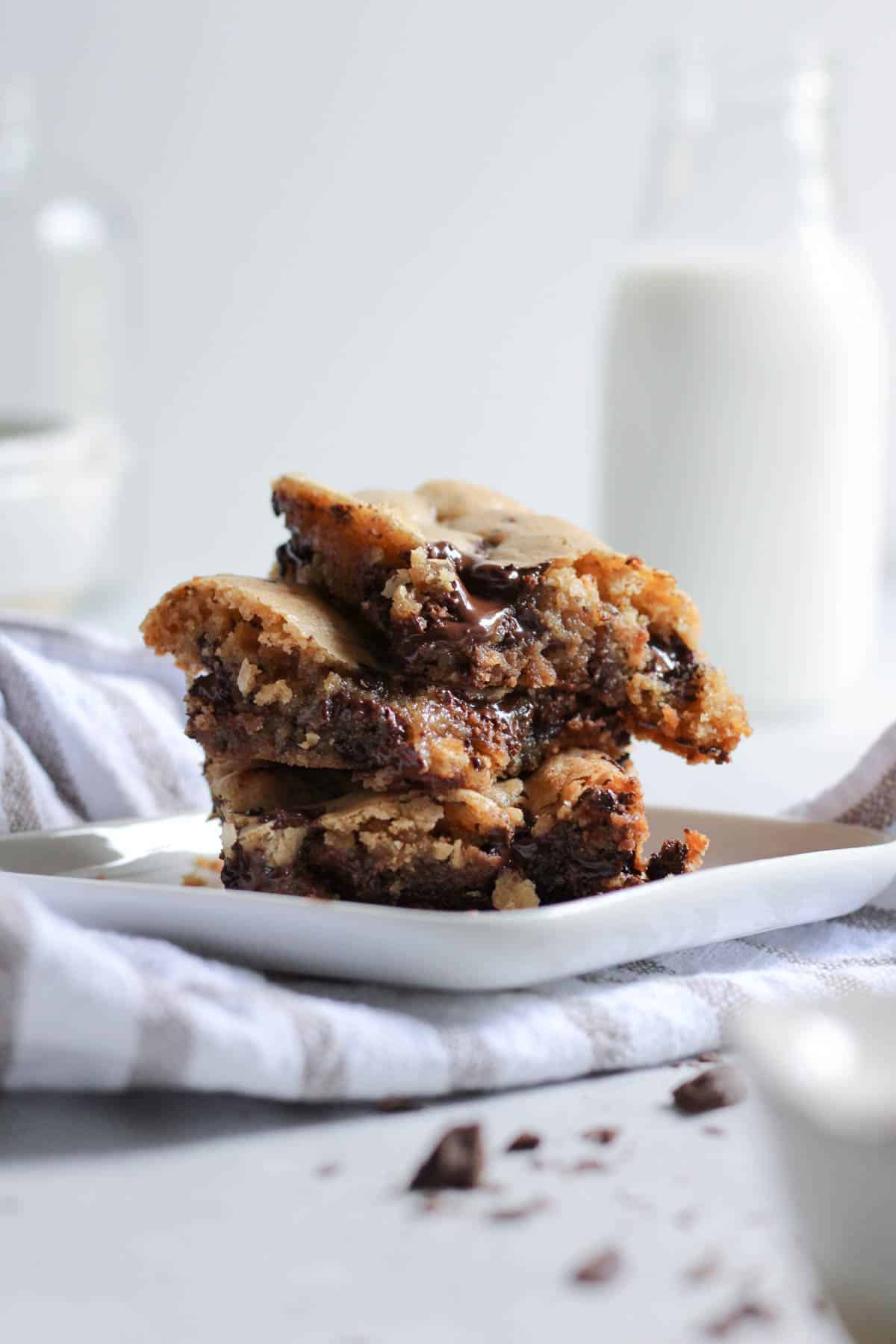 These cookie bars are perfect for anytime. Truly- does any (sane) person actually turn down a chocolate chip cookie?
Pair that with the fact that these bars are about ¼ of the work of cookies, since you don't have to scoop them, and we've got a winner of a recipe here.
Y'all especially gave them some love on my instagram and tiktok, so I knew I had to get the recipe up.
This recipe was modified from my famous chocolate chip cookie recipe. And if you like these, you will definitely enjoy my monster cookies- a Midwestern favorite, and my peanut butter cookies!
Jump to:
Ingredients
Butter (unsalted)
Brown sugar (I use light brown sugar but dark brown sugar is pretty good too! Be sure to pack the brown sugar tightly by squishing it with a spoon.)
Eggs
Vanilla extract
All-purpose flour ("Fluff" your flour with a spoon before scooping to ensure that you get the right amount)
Baking soda
Kosher salt (I use Morton)
Semi sweet chocolate (chips or chopped bars)
See recipe card for quantities.
Instructions
The best part of this recipe is how darn simple it is! The brown butter is an extra step, but it's really quite easy and VERY worth it.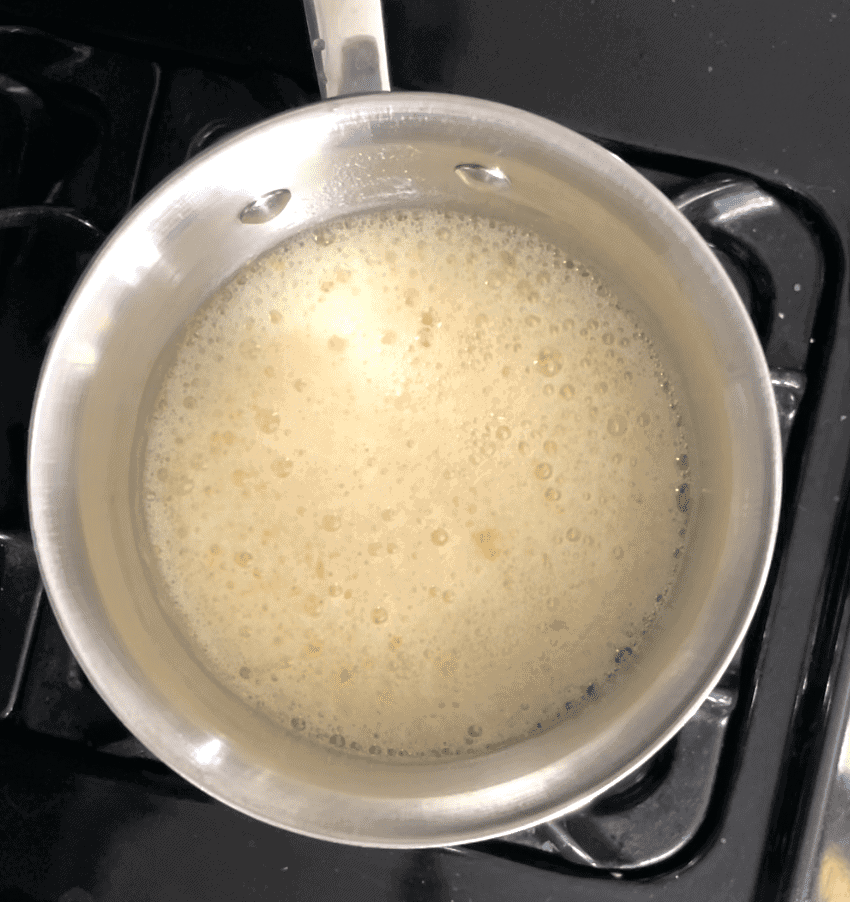 Make the browned butter.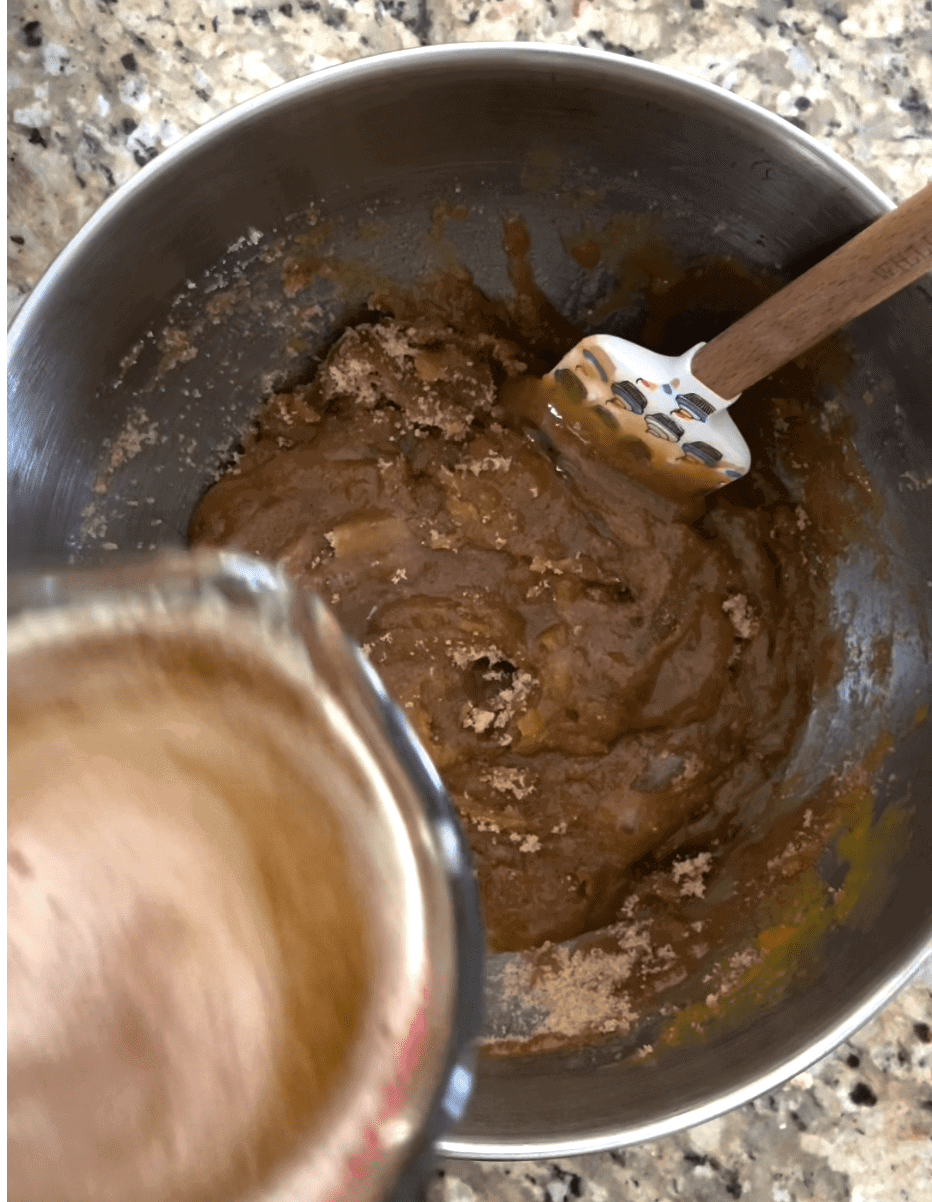 Combine brown sugar, eggs, and vanilla.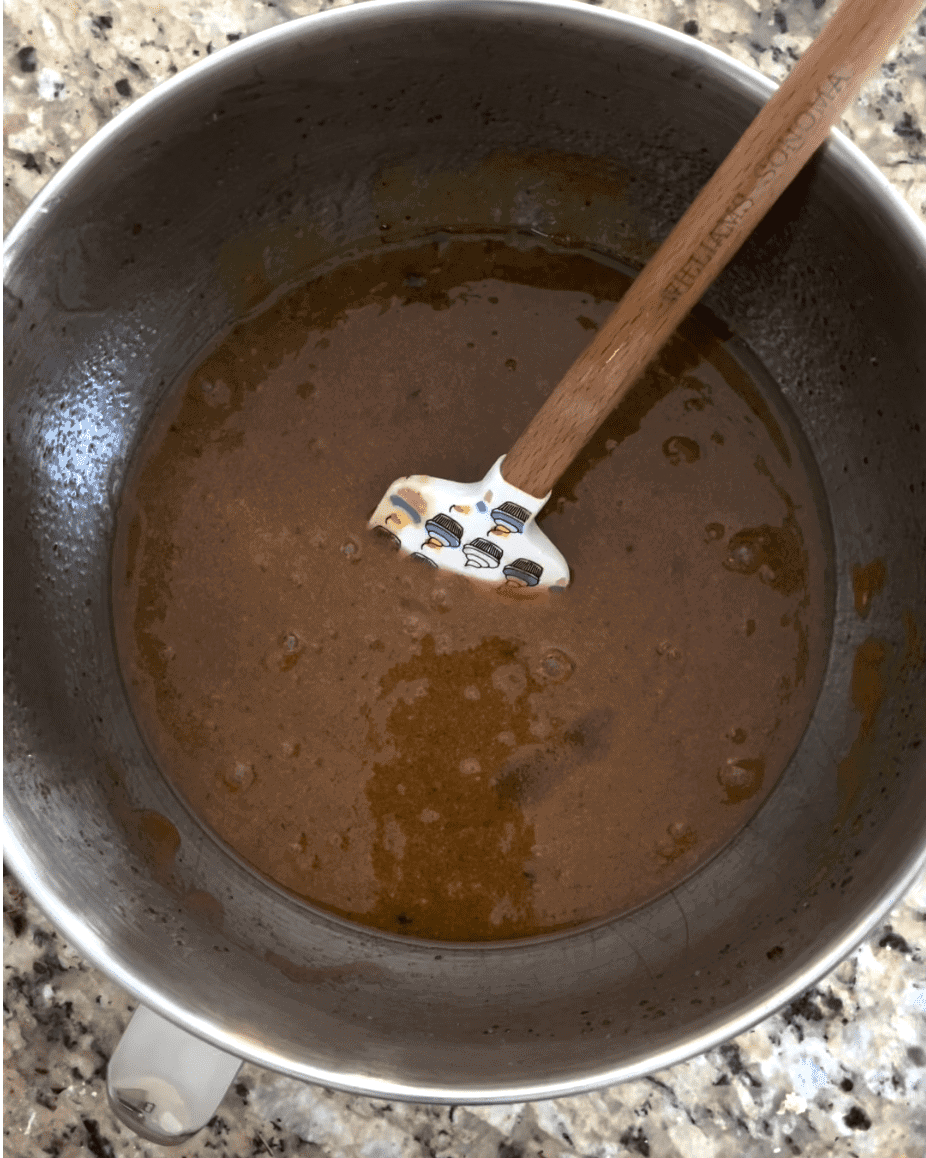 Add browned butter to batter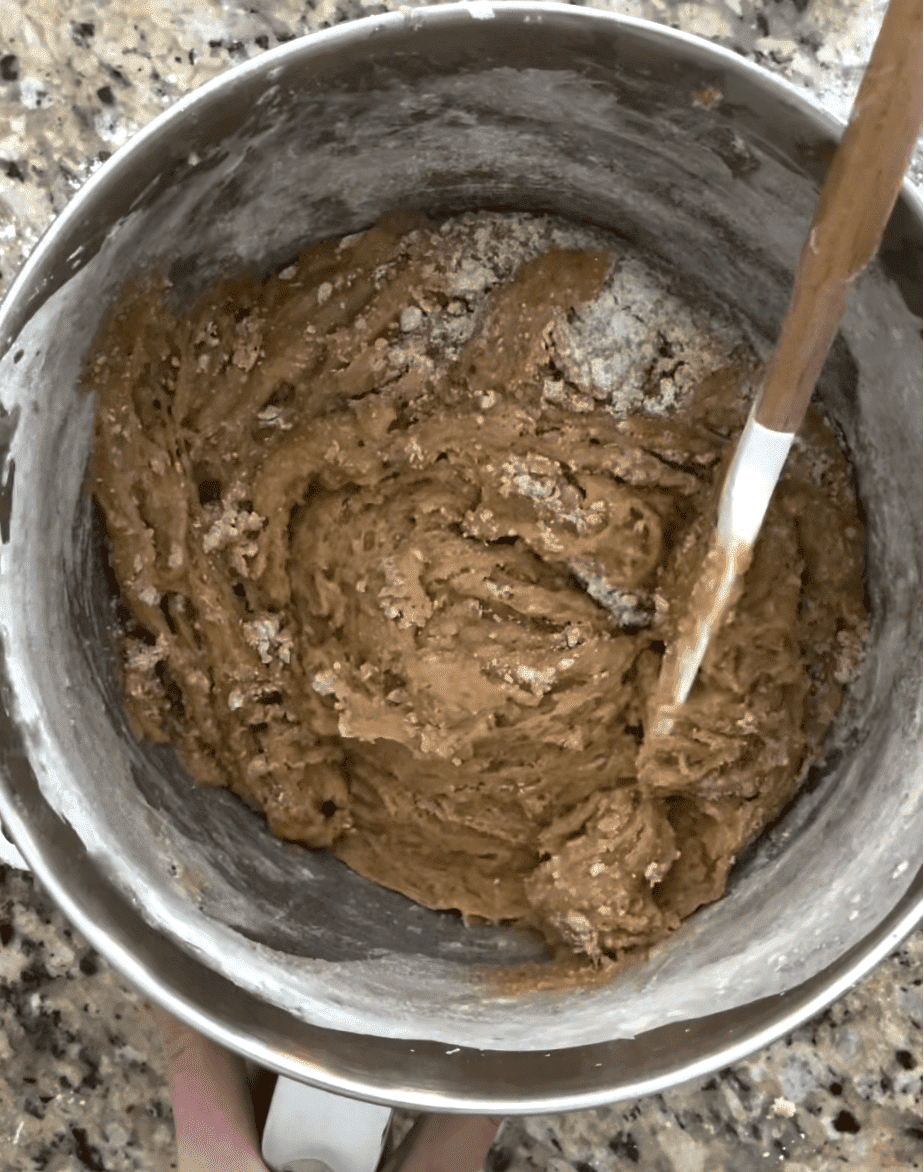 Add your dry ingredients (flour, baking soda, and salt) to batter.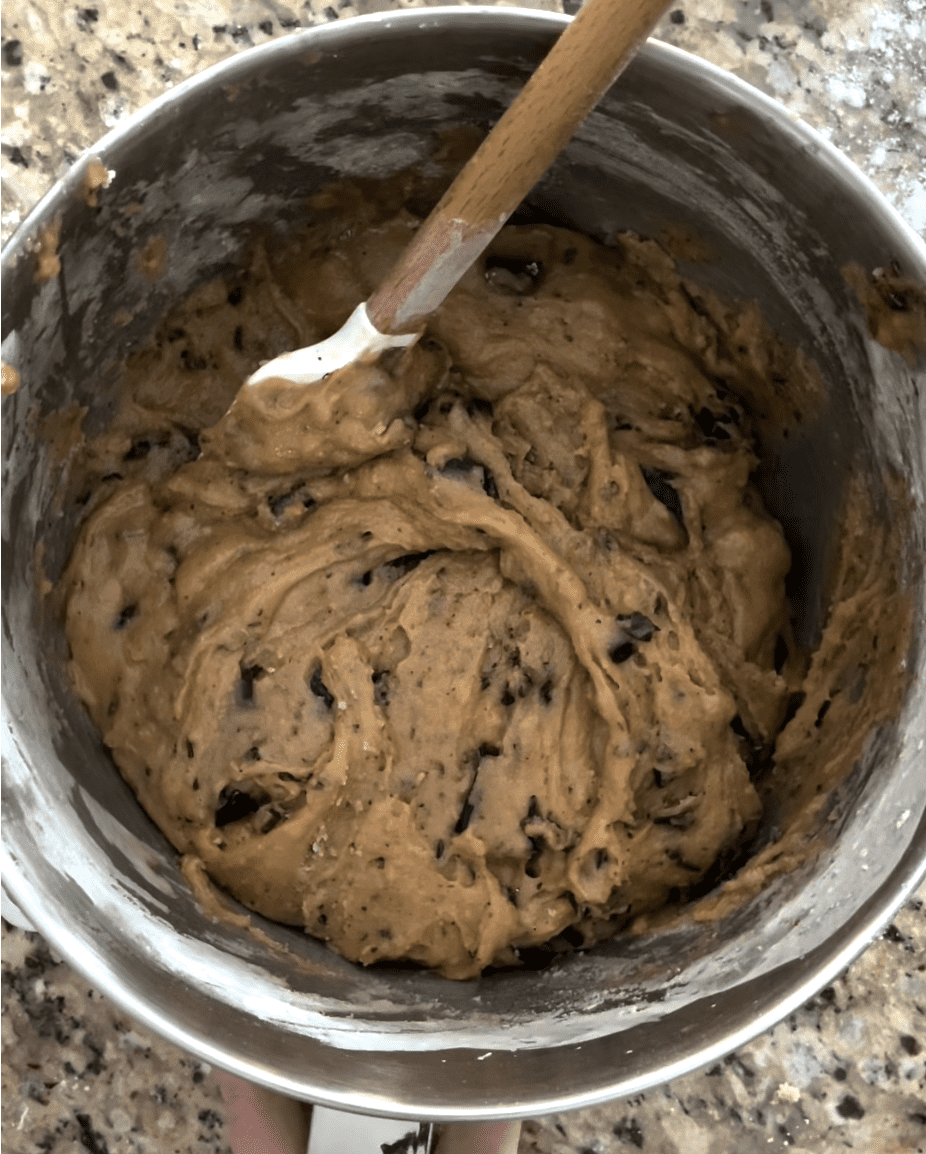 Add chocolate chips/chunks to batter.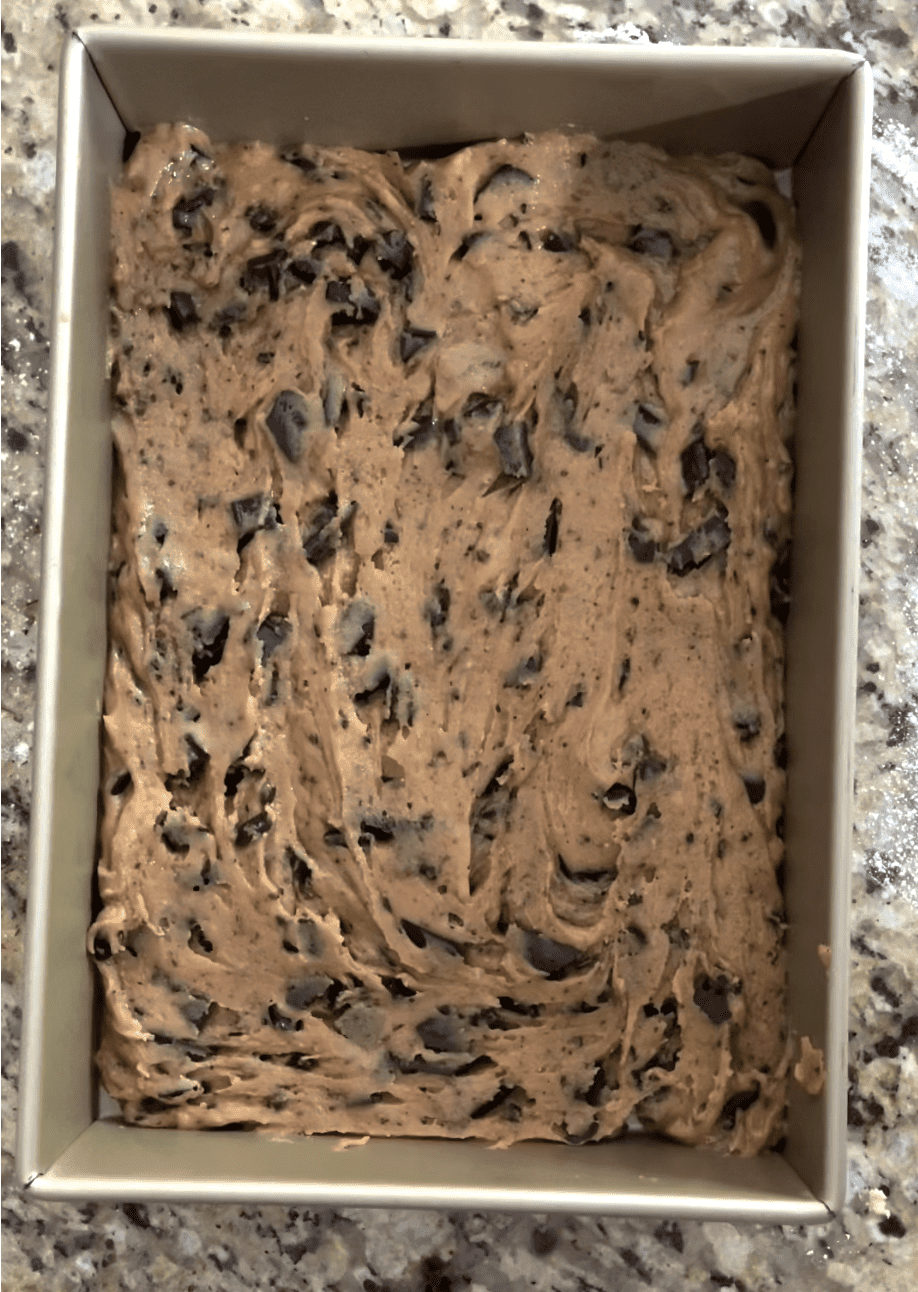 Press into a greased 9x13 baking dish and bake at 350 for 25-30 minutes. When they're done, the center won't be jiggly and the top will be a beautiful golden brown color
What is browned butter?
Brown butter is melted butter where the milk solids "brown" and become extra flavorful. It is a more bold, nutty flavor than regular butter, and gives baked goods a caramely, toasted flavor.
Don't be afraid to make it! Just put the butter in, turn the stove to medium, make sure it doesn't burn, and keep an eye out for the brown flecks as described in the recipe card. You've got this!
The browned butter may take a few minutes of stirring to fully mix in to the batter. Get in that arm workout!
Substitutions
Browned Butter- if you're feeling extra lazy (no judgment), you don't have to brown the butter. You should still melt the butter though, and add it in once melted.
Variations
Yay! If you want to spice these up a bit, lets talk about how to do it:
Mix-Ins: You can add a variety of mix-ins to the batter- try chopped Reese's peanut butter cups, chopped Snickers bars, M&Ms, toffee, or just about anything your brain can come up with!
Brookies: This is a great base to mix with brownie batter and make some tasty brookies (AKA brownie cookies).
Sea Salt: If you're feeling fancy, sprinkle some sea salt on top for a flaky, crunchy finish.
Description
You've found the perfect brown butter chocolate chip cookie bar recipe if you're looking for one that is:
Simple and made in one bowl
Sweet and salty
Gooey, soft, and chewy
Moist
From scratch
Easy to make for a crowd
Delicious at any time of year
Loved by even the pickest-of-eaters
This is a super flavorful chocolate chip cookie bar recipe with an almost caramel flavor from all the brown sugar.
The texture is also top-notch with a crisp top layer that gives way to a melt-in-your-mouth gooey center.
Troubleshooting
If they are dry, be sure to fluff your flour before measuring it next time. Packed flour can create more dry, crumbly cookie bars.
If they aren't very flavorful, pack your brown sugar tightly before adding to the batter. Additionally, use Morton Kosher salt for the ideal level of salt.
If they're overcooked, they may be very brown, hard, and dry. You may have left them in for too long, or your oven may run warm- use an oven thermometer to ensure your oven is the right temperature.
If they're undercooked, they may be gooey and runny. This could happen because you took them out too early, so next time watch for the center of the bars to no longer be jiggly- then remove from the oven. Your oven may also run cool- use an oven thermometer to ensure your oven is the right temperature.
If your cookie bars stick to the pan, you can line your pan with parchment paper next time to ensure they come up smoothly.
Equipment
Another great thing about these lazy chocolate chip cookie bars is that you don't need much- just a bowl, a spatula, and a 9x13 pan.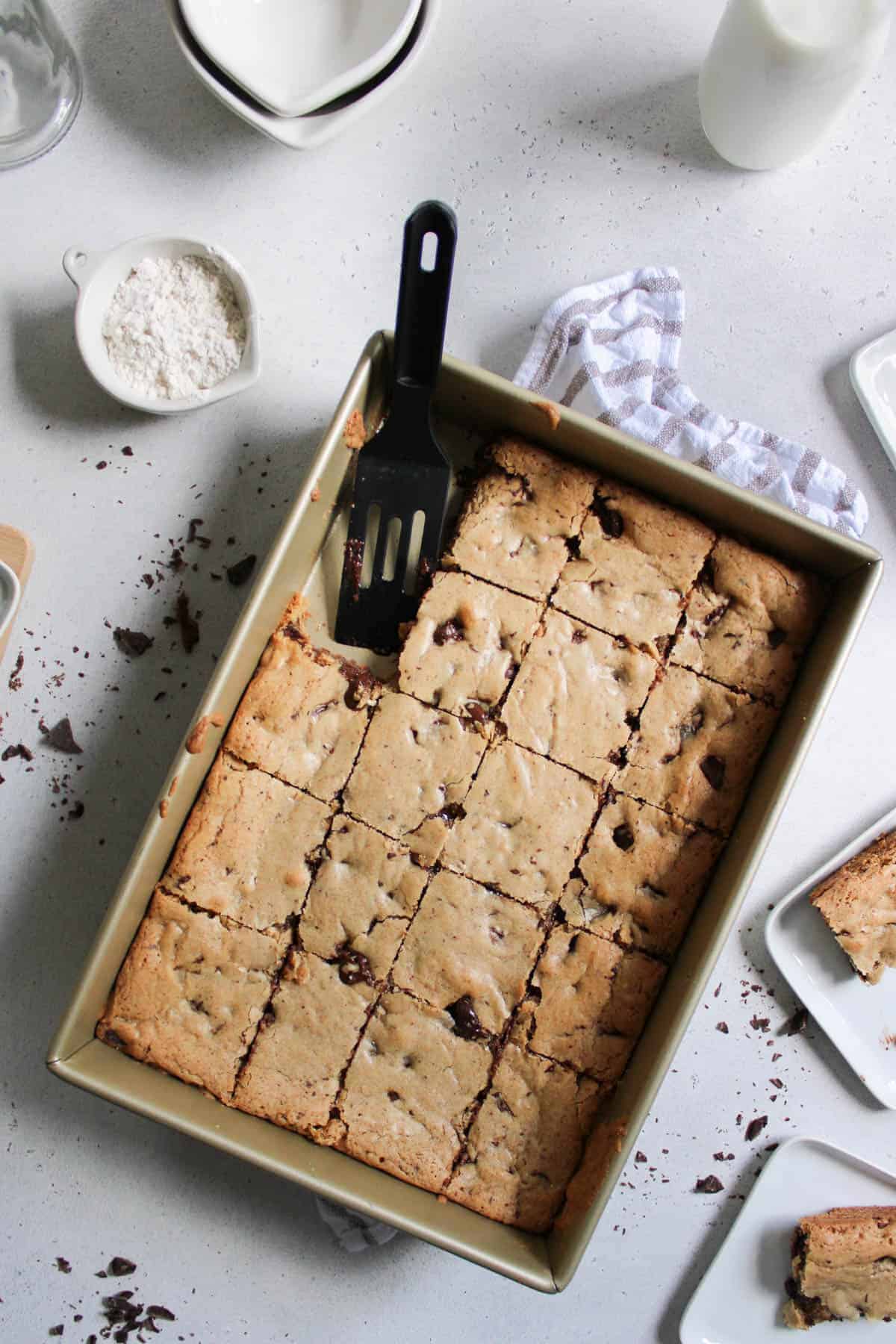 Storage
You have a few options for storage! You can store these chocolate chip cookie bars tightly covered on the counter for up to 3 days or freeze for up to 3 months. If freezing, use the cookies within 1 day for optimal freshness.
FAQs
Do I have to use a 9x13 pan for chocolate chip cookie bars?
You can put this batter into a 9x9 pan! The bars will be thicker and the cooking time will be longer (check for when the batter no longer jiggles in the oven when you move it).
What type of flour do I use for chocolate chip cookie bars?
Bleached all-purpose flour is the go-to for a great balance between chewy and crisp, but you can use other types of flour.

If you use bread flour, expect a more dense, chewy bar. You can also use cake flour, but you'll want to omit half of the baking soda and the bars might turn out lighter and more cakey.
Can chocolate chip cookie bars be made in advance?
Chocolate chip cookie bars can be made up to 3 days in advance, or up to 3 months if cut and frozen.
How do I store chocolate chip cookie bars?
These will keep covered on the counter for up to 3 days. They'll keep in the freezer for up to 3 months. If freezing, eat the bars within a day after defrosting.
Can I freeze chocolate chip cookie bars?
Yes, cookie bars will freeze well for up to 3 months.
Top tip
If you're up for it, chop up some semisweet chocolate instead of using chocolate chips!
Chopping the chocolate creates both big chunks and little slivers of chocolate.
The slivers get mixed in super closely with the batter giving you a chocolatey bite every time, and the big chocolate chunks are so satisfying to bite into.
Notes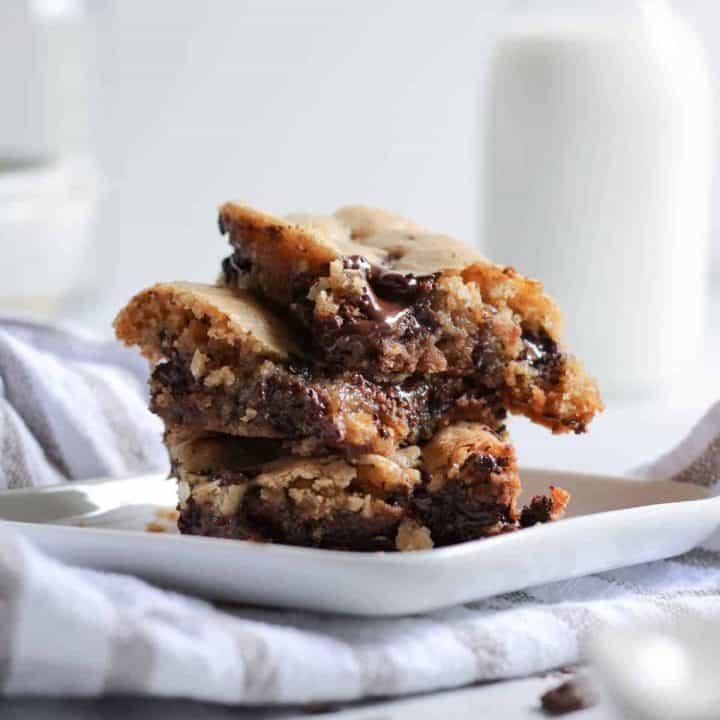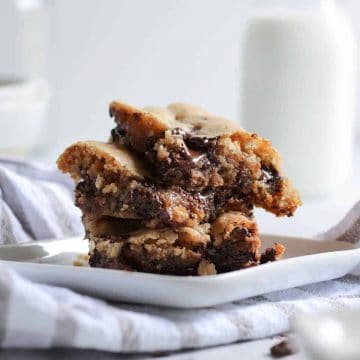 Lazy Brown Butter Chocolate Chip Cookie Bars
An easy, simple, and delectable recipe that will please any crowd (even a crowd of 1 😉 featuring a load of chocolate chips, brown butter to level them up, and a super tasty cookie dough base.
Equipment
1 Large Bowl

1 Spatula

1 9x13 pan
Ingredients
¾

cup

butter

two sticks equals 1 cup

1 ½

cups

brown sugar

2

eggs

large, room temperature

1 ½

teaspoon

vanilla extract

1 ½

cups

all purpose flour

bleached

½

teaspoon

baking soda

1

teaspoon

kosher salt

1 ½

cups

semisweet chocolate chips

or chopped chocolate bars
Instructions
Get Ready!
Grease a 9x13 baking pan with cooking spray or butter.
Brown the Butter*
Put butter in a pan on the stove, and turn on medium heat.

Allow butter to melt and bubble, stirring occasionally to ensure butter is not burning.

Keep a close eye on the butter. It will go through a stage of bubbling, separating, then foaming. Once it gets to the foaming stage (about 10 minutes), watch until brown flecks begin coming through the top of the bubbles.

Stir briefly, allow to bubble for 15 more seconds, then remove browned butter from heat and pour into a glass or heat-proof bowl. You'll see flecks of brown in the butter, and it will be amber-colored.

Allow to cool for at least 15 minutes.
Make the Cookie Dough
In a large bowl, combine the brown sugar, eggs, and vanilla. Add in browned butter and stir until combined.

In a medium bowl, combine flour, baking soda, and salt. Add this to the brown sugar mixture and stir just until flour is completely mixed in.

Stir in chocolate chips until evenly distributed.
Bake
Bake the bars at 350 for 25-30 minutes. The bars should no longer be wiggly in the center when you jiggle the pan.

Cool for as long as you can stand it- then dig in!**
Notes
*Brown Butter: You do not have to brown the butter for this recipe, you can simply melt it. The recipe will not have quite the same richness, but will still be quite tasty and will save you a step if you need it!
**Storage: These will keep covered on the counter for up to 3 days. They'll keep in the freezer for up to 3 months. If freezing, eat the bars within a day after defrosting.
Nutrition
Calories:
295
kcal
Carbohydrates:
42
g
Protein:
3
g
Fat:
13
g
Saturated Fat:
8
g
Polyunsaturated Fat:
1
g
Monounsaturated Fat:
4
g
Trans Fat:
1
g
Cholesterol:
44
mg
Sodium:
205
mg
Potassium:
136
mg
Fiber:
1
g
Sugar:
29
g
Vitamin A:
255
IU
Calcium:
46
mg
Iron:
2
mg